In light of the new year; let us make 2013 the year Ruby-Sue finds her forever home! Together we can find this deserving, loving, loyal, beautiful pup the home she has been waiting to call her own.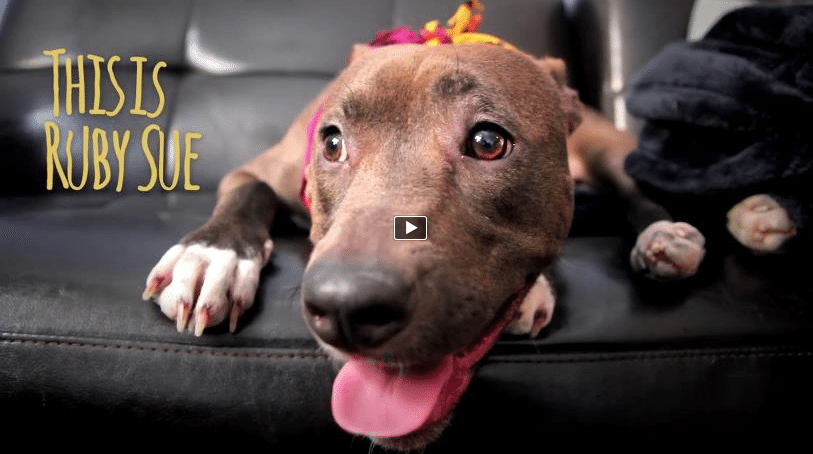 Ruby was lucky enough to go to the home of her dreams January 2012, but unfortunately due to circumstances outside of their control, they had to let their beloved little girl go. As with any animal adopted from Eleven Eleven, she came back to us. As Marilyn Monroe once said – "Sometimes good things fall apart so better things can fall together."
Ruby-Sue is a very special puppy who was rescue October 2011 from the side of a road, it was clear she had a neurological defect that prevented her from bending her knees. She was followed by Dr. Parent at St. Hyacinth while growing up as a puppy. Thanks to the generous donations of hundreds of individuals and the support of Bailey Blu Pet Boutique; she was able to have an MRI, muscle biopsies, blood tests, and extensive neurological testing. She was diagnosed with a neurological birth defect that prevents her from bending her knees, which is neither degenerative nor life threatening.
Now enough of the sad stuff, here is a little more about Ruby-Sue;
This fabulously pretty little girl, has a birth defect which prevents her from bending her knees. However, it has done nothing to incapacitate her boundless energy and spirit. Not able to bend at the knees? No problem! Ruby Sue simply finds increasingly creative ways to adapt to hers so that she can let out her inner mischievous puppy self.
Ruby-Sue loves to cuddle with her canine foster siblings, Ruby Sue absolutely adores children and people. Kids are her true kindred spirits, so an ideal home would include children of an appropriate age, who can be aware and considerate. She would also benefit from a family that will understand that she is an intelligent dog, who needs training and guidance just like any other puppy.

This effervescent and happy-go-lucky pup doesn't want anyone to feel sorry for her. She seems to live her life in the image of figure skater Scott Hamilton's belief that "The only disability in life is a bad attitude."
Adoption bio by Jayme Wilmann of The Under Dog Club


Requirements for adoption: Breed experience or willing to go to training. Must not live in Ontario or a burrow / apartment that discriminates against dogs based on physical features (breed bans).
Ruby-Sue is born (approximately) end of August 2011, up-to-date with routine shots, microchipped, treated for worms and fleas, has learned basic obedience, crate trained, house trained and sterilized.
For more information on adoption: elevenelevenanimalrescue.org/adopting.html
Video by AJ Korkidakis (ajkorkidakis.com)
Please share this post far and wide – lets get Ruby adopted!
——-
Caroline Ross, AHT
Founder, Eleven Eleven Animal Rescue
Blogger, Montreal Dog Blog
Through adoption, sterilization, identification, and education, we hope to one day live in a community where homeless animals do not exist.
Adopt a pet, save a life (and who knows, maybe one day they will save your life).