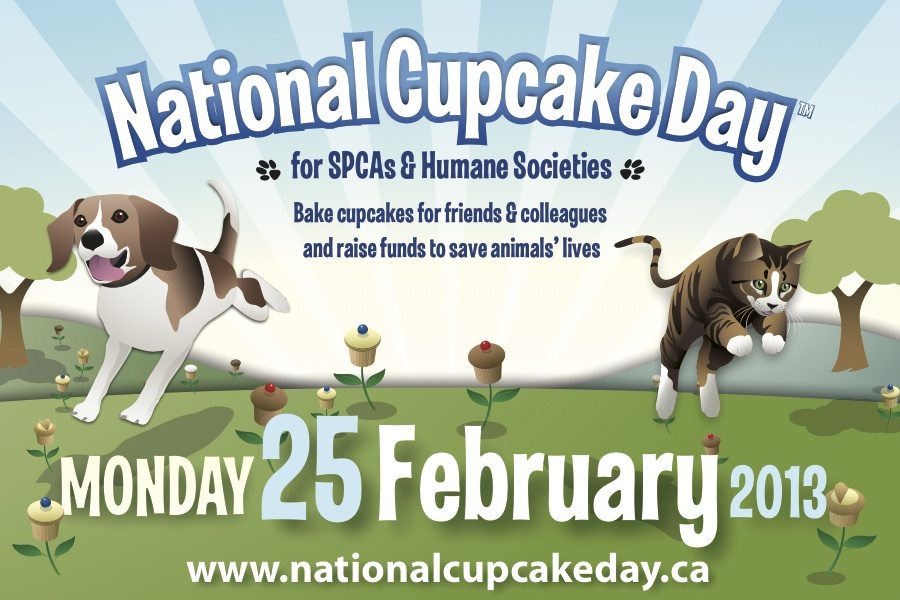 The Ontario SPCA announces their participation in Canada's inaugural National Cupcake Day for the SPCAs and Humane Societies.Thirteen OSPCA's, seventeen Ontario Humane Societies, plus other agencies across Canada are already registered and planning the day that will make a difference for shelter animals thanks to a cupcake.
On February 25th anyone can host a cupcake party. According to the OSPCA, the initiative was initially launched by the RSPCA in Australia in New South Wales. Sponsored by Petsecure Pet Insurance, Reynolds® and BMO Bank of Montreal, National Cupcake Day™ is designed to help raise much needed funds for all fuzzy friends, big and small, that have been abused, abandoned or in need of help.
"We're encouraging people to register online at www.nationalcupcakeday.ca and then to bake cupcakes and host a National Cupcake Day™ party on February 25th, with all proceeds going to support the Ontario SPCA and its communities," explains Marc Ralsky, Director of Community and Donor Development for the Ontario SPCA. "We hope that people will encourage their family and friends to donate online and to support their efforts by attending a local National Cupcake Day™ party, or hosting an event of their own. It's a fun and easy way to make a life-saving difference in the lives of animals who desperately need our help."
Unfortunately, it seems no Quebec Humane Society or SPCA will be participating this year. The website states that although people may not see their local rescue listed, the money will still go to animals that are in need. It also specifies that if a rescue that is not participating and would like to be part of the event, they can contact the OSPCA to inquire about participation.
If you would like to participate and help out animals in need, here is the official National Cupcake Day Recipe.
As a Cupcake Day Host, you will be part of an exceptional group of supporters who understand the importance of pets in our lives.
Register for FREE at www.nationalcupcakeday.ca
You will receive a FREE Cupcake Host Welcome Package in the mail, which includes a poster, sticker, balloons and fundraising guide
Personalize your National Cupcake Day™ Online Bakery and send it out to the world
Encourage friends and family to support you by donating online
Plan your National Cupcake Day™ Party for home, work, school or wherever you think people would love to eat your cupcakes
Bake, decorate, eat and share delicious cupcakes to raise funds for Canada's SPCA's & Humane Societies!
"This is really a fun, grass-roots way to help fight animal cruelty and make a difference," says Ralsky. "Everyone loves cupcakes, and they taste even sweeter when you know it's for a good cause." To register or for more information, visit www.nationalcupcakeday.ca.
Like their page on Facebook click here
Please remember cooking cruelty free cupcakes! Consider looking through the internet for vegan recipes for cupcakes. Just google "vegan muffin recipes" and you will find lots of them!