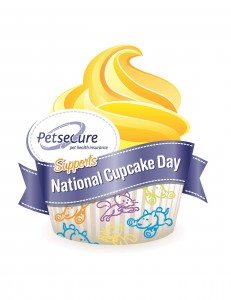 According to a press release given out by Petsecure, Humane societies and SCPAs across Canada will receive a much-needed financial boost on February 25, 2013 from an unlikely means: cupcakes. Petsecure pet health insurance is proud to join The British Columbia Society for the Prevention of Cruelty to Animals (BC SPCA) and the Ontario Society for the Prevention of Cruelty to Animals (Ontario SPCA) as the gold sponsor for Canada's first-ever National Cupcake Day. The event raises funds to support homeless, abused and injured animals in Canadian humane societies and SPCAs by encouraging participants to bake cupcakes for others in exchange for a donation.
 "National Cupcake Day has been a phenomenal success in other countries and we know it can do just as well in Canada. We Canadians love our pets and who doesn't like a cupcake?" said Glenn Williams, Petsecure's President and CEO. "As strong ambassadors of responsible pet ownership, we are proud to contribute to, and support, such a worthy cause."Petsecure is Canada's oldest and largest pet insurance provider with over 20 years of offering innovative pet insurance to Canadian pet parents. Petsecure has unique pet insurance options to choose from that offer the most comprehensive coverage in Canada. Their plans are so complete that they have special coverage including alternative treatments and behavioral therapy.
Supporting the event are Lori Joyce and Heather White, owners of the well-known retail chain Cupcakes and hosts of W Network's The Cupcake Girls. They will be offering their baking expertise, speaking at promotional events, and judging cupcake competitions held in conjunction with the event.
"National Cupcake Day is a truly 'sweet' way to help tens of thousands of animals in need across Canada.  Animal lovers can use their baking talent for a great cause, raising funds to help animals who need our help," said Craig Daniell, CEO of the BC SPCA. "We are grateful for Petsecure's partnership that is helping make this program a reality here in Canada."
To read more about National Cupcake Day in Canada click here

To Like Petsecure Pet Health Insurance on Facebook click here
You can also follow Petsecure (@Petsecure) on Twitter click here