Oh, Sammy Boy!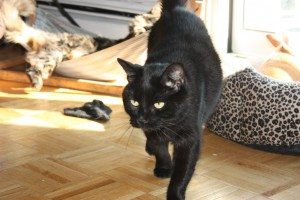 Sammy isn't your typical happy go lucky black cat.  He's more than that. His bowlegged hind legs give him the best cat strut I've ever seen, and the little bend at the tip of his tail add to his cool and mysterious demeanor.  Every human and animal that knows Sammy wants to be his best friend.  Put simply, Sammy is like the popular kid at school that everyone wants to be associated to.  All of the volunteers at PetitsPawz have fallen under his charm.  I am no exception.
I have been fostering for PetitsPawz for a little over a year now, and Sammy was my 13th foster cat.  At the time he had been living in a shelter run by our volunteers with 6 other cats.  Sammy had been living there for a little over two years when we decided that it would be best for him to live in foster care.  That way, we could focus more on getting him adopted. I had already met him on a few occasions and my boyfriend and I were happy to bring him home with me and my other animals.
Introducing Sammy to my other cats was a piece of cake.  Even my chihuahua acted as though he had always been there. Within a matter of minutes he was settled in had and found refuge in the kitty hammock that we have by a window.  For the next two months, Sammy helped introduce a new foster cat to the home.  He made it his mission, and before long the kitty had found a friend in him.  He was an absolute pleasure to have, loved to play and really just a great addition to our mis-matched family. Falling in love with Sammy was one of the easiest things that has ever happened to me.
Sammy has always had funny eating habits.  He likes to take a little bit from everyone else's bowl, come for some affection, and than do a repeat round. When he stopped doing this all of a sudden one day and just sat in front of his own bowl without much interest, my boyfriend and I both knew something was up.  Looking back, we had noticed that he was also drinking water during mealtime instead of eating. Alarmed, we called the founder of PetitsPawz and one of my closest friends, Susan, who made an appointment to see a vet the next morning.
That morning it felt like a freight train hit me.  After a round of blood tests, we were told that Sammy was dying of kidney failure, and his levels were so low that chances of survival were extremely slim. We had the decision to go ahead and try treatment or to end his life.  Without hesitation, Susan told them to fight.  Sammy is worth it, and we knew that he is a strong cat.  Meanwhile, Susan, my boyfriend Patrick and I all fell apart together.  Why Sammy?  He didn't deserve this, and we all wanted to take whatever pain he had away from him.  I just kept picturing this poor little ball of love in a cage at the vet, wondering why we had left him there.  Sammy had never known what it is like to live in a permanent home, and our hearts broke for him. As foster parents, Patrick and I had never been through anything like this before.  We had experienced nothing but joy to see our many foster cats find happy endings with new homes.  We were never prepared to face such heartache and anger over one cat. We both had to re-evaluate a lot of what we were doing.  We both withdrew from each other over the next few days, finding more comfort from our animals than from each other.  I think at the time we were both so angry over feeling so helpless, that this is the way both chose to cope.  Somehow I was looking for answers in my other foster cats, and later I found out that Patrick had been doing the same.
All that we could do now was wait. As this happened to be December 30th, 2012, we all rang in the New Year with heavy hearts. The first few days were positive, and Sammy was responding to treatment. By January 4th, the results were clear: while Sammy's levels were slowly climbing, his kidneys were giving up on him.
This is when Patrick and I decided that Sammy would no longer be someone's foster cat. We would not only adopt him, but would also do everything in our power to give him the best life a cat could have.  Our understanding was that we would have to provide Sammy with daily subcutaneous injections, medication, and a special diet to maintain his kidney levels.  A quality of life was possible, yet we could not know how long Sammy had left.  This was never an issue for me.  I just wanted Sammy to know what a home felt like, and I needed him to know that he had a whole team of people on his side.  Susan and the PetitsPawz team (who refused to give up any medical expenses), the team at the LaSalle Veterinary hospital (who spent tireless hours caring for him), and his now forever parents.  Now that he had seen just how much Sammy was willing to fight for his own life, we all made a pact to do the same.
To be continued…
Sammy's veterinary bills have climbed to just under $1000. We have collected a total of $345 so far.
If you would like to donate towards Sammy's care through PetitsPawz Cat Refuge of Montreal, simply follow the link below and select 'Sammy's fund' from the drop down menu. A tax receipt is issued through email with every donation.
http://www.canadahelps.org/CharityProfilePage.aspx?charityID=s100425
Laura Dextrase, PetitsPawz Volunteer and Sammy's new Mom.