UPDATE FEB 5TH: These cats have a promising adoptive home! We will keep you posted as to how things work out!  Thank you for having spread the word. 
The following is a courtesy post – please contact the contained information for further details.  PLEASE SHARE. 
Montreal Dog Blog has learned of a very sad situation.  A Montreal woman named Lucille visited hospital recently with what she thought was some form of asthma. In fact, she was quickly diagnosed with a much more
grave condition. She has cancer in the final stages and the disease is progressing rapidly.
Lucille also has two beloved cats (who are now seniors) and she wants to ensure that Angus and Fergus have a safe and loving forever home for the rest of their lives.  Her friends have been casting a wide net to help Lucille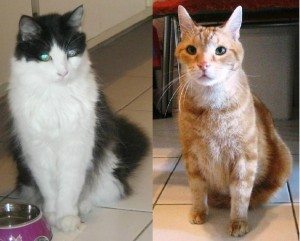 place her cats – and so, if you can share this post, it would be much appreciated. 
Angus and Fergus are both males and have been sterilized. They are 13 and 14 years old.  They have never been with other cats, dogs or children – so their interactions with them is unknown.   They have always been indoor apartment cats.  Ideally, they would be adopted together, but if they have to be separated, that would be alright too.
The cats are still in Lucille's apartment with a neighbour caring for them for the time being. 
For further information, please contact:  (removed by request – as cats have potential home) 
 And please, share this post.  We want to help Lucille.  And we want to make sure these old boys have a place to call home.