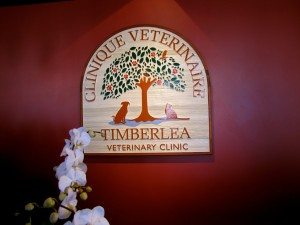 By: Liliana Danel
Today was the inauguration and open house of the Timberlea Veterinary Clinic in Kirkland.  Dr Amanda Glew and Dr. Isabelle Côté  own and operate this wonderful place that is far from the traditional vet clinic that people are used to visiting. Montreal Dog Blog was invited by Suzannah Vanson to tour and take pictures of a clinic that looks like a home. The warm tones of the walls and the fixtures on the ceiling reminisce of a day during fall in a cabin with your best friend.
The layout of the rooms in the building were planned out in order to accommodate the needs of the animals and their humans. There is a room for pups with private showers and a room just for the kitties to feel comfortable. The dog room has a noise reduction door in order to ensure the animals are more serene while they have to stay at the clinic,  or when they wake up after surgery.  Another nice attribute of the clinic is the special care room. It is a room where people that have a hospitalized animal can go and visit.  It has an independent door to exit,  if at any moment people do not feel like walking through the lobby of the clinic. It gives privacy to people when moments can be difficult and they might not want to be seen by other clients. It is comforting to see a high tech clinic that has stayed away from the traditional white and green colors of so many veterinary clinics. It is visible and tangible the amount of love and dedication that so many people invested in the clinic.
The clinic has all that people could need under one roof! An animal supplies store that includes things that humans need too. From caps to magnets and even a section of greeting cards with all types of messages for all occasions that people may need. During the open house 10% of sales went to Boxer Rescue Quebec. It is important to mention that the clinic is a drop off point for the  pennies for paws campaign to help out Rosie's Animal Adoption. People are more than welcome to pass by and give the pennies to such a great rescue.
There is a grooming area and even a huge room where training classes will be offered. In that room, there is no stone cold floor,  you will find a rubber mat floor that is soft to the pup's joints and paws,  plus easy to clean. Right next to this room is the grooming area that has a window for people to see their pup while he or she gets all beautiful. People can wait in the waiting area for their pup and there is a kiddy corner included for little ones to play.
What makes this clinic even more remarkable is that it will also run a low cost clinic. Best friends spay neuter clinic is owned and operated by Dr. Amanda Glew. The Best Friends Spay Neuter clinic will run in the Timberlea vet hospital, offering low cost spay, neuter, vaccination and flea treatment , plus other services. Timberlea veterinary clinic is committed to offering basic care at reasonable prices so that all animals can have basic care at affordable rates. Dr. Amanda Glew wrote on her blog that she would like for other vets to do the same,  and more of these low cost clinics to exist in the province. Read her blog post about by clicking here.
As a person that is interested on the well being of all animals, I was blessed to have seen such kindness by all staff towards people and animals. I pray that many more vets in Quebec and in the whole world follow the steps of the Timberlea clinic. I am more than tired of hearing people saying that they don't vaccinate their animals because they think it is way "too expensive",  and that it is not needed or that they won't fix their companion animal because they can't afford it. They promote compassionate caring treatment for their clients and believe in spaying/neutering animals in order to save innocent lives. The Quebec province needs a lot of reform when it comes to animal laws, but since the laws are not changing at this moment…I am happy to see people with initiative make a difference for animals and society.
Please feel free to visit Timberlea's website for more information by clicking here
Like their Facebook Page by clicking here
Like Best Friends Spay and Neuter Clinic by clicking here
To see all the pictures taken during the event please visit our Facebook Page album by clicking here