Have you heard of Pilots n Paws Canada?   They are a registered, non-profit organization that transport animals in need within Canada!
What a wonderful initiative to transport dogs to new homes!  CaacQ's first flight passenger leaves this Saturday! Read on: 
 The French Connection has wings!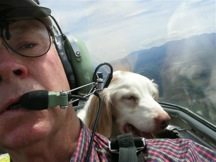 Montréal, March 1, 2013:   Since 2008 the Companion Animal Adoption Centres of Quebec (caacQ) has transferred homeless abandoned dogs to our partners in Toronto.  In 2012 more than 290 dogs have been sent by ground transport. 
The absence of low cost spays and neuters clinics (www.sterilisation.ca) in Quebec and the high number of abandoned adoptable dogs creates an overflow of Quebec canines.
The caacQ always seeking innovative and ethical solutions is collaborating with Pilots N Paws Canada (www.pilotsnpawscanada.com) to transfers by plane these wonderful dogs.
Our first flight transfer will take place this Saturday with Lexus a 2 year old black lab mix –  our first passenger.
We would like to thank our partner the Toronto Humane Society (THS) (www.torontohumanesociety.com) who since 2011 has kindly offered to find new homes for these homeless Quebec dogs.
We are reaching out to fellow pilots to sign up with Pilots N Paws Canada to take part in this life saving initiative.
Please note weather conditions may alter the flight schedule.
Date; Saturday March 2nd 2013
Pilot:  Mr. Dominique
Departure:  7:30am
Les Cèdres airport 870 Chemin St. Féréol, Les Cèdres, Québec Canada. J7T 1N3 Tel: +1 450-452-4882 / 514-875-6669
Arrival; 11:00am
Buttonville airport, 2833 – 16th Avenue, Markham, Ontario
L3R 0P8 Tel: (905) 477 8100 – (416) 324 2898
Contacts;
Pïlots N Paws Canada; Jean Sébastien Dominique, pilot 514-445-3961
Toronto Humane Society; Barbara Steinhoff, Executive Director, 647-938-9053
caacQ; Johanne Tassé, 514-232-6282
MERCI!