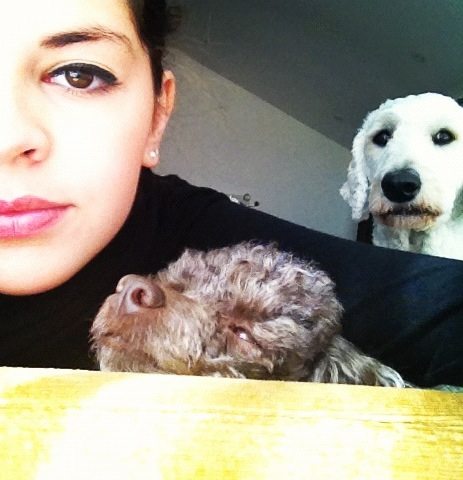 Montreal's most beautiful songbird Nikki Yanofsky is a dog lover too!  Even with her crazy busy schedule she always has time for some puppy love…
---
Where do you live now and who lives with you?
I live in Montreal with my parents and my 2 older  brothers… plus Vince, Rafa and Harry, my three dogs 🙂
Did you have animals when you were very young?  What was your first experience ?
Yes I've had animals since kindergarten. I had a standard poodle named Hudson, he was amazing.
What are the stories behind each of the dogs you have now ?
Vince:  We got Vince right after Hudson passed away. He's quite the rebel dog, he's a chocolate brown miniature poodle who weighs 14 pounds. He only loves my mom !
Rafa:   My brother got Rafa because whenever my mom and I would leave town, Vince would adore my brother…. but the second we'd return Vince would pretend like he didn't even know him! So he got fed up and got his own dog, a 70 pound Golden Doodle who is quite the character.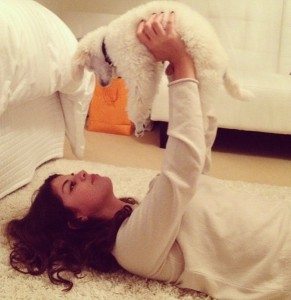 Harry: Harry is my dog, I love him soooo much. He is 5 pounds and a pure white tiny toy poodle. Hes gorgeous! I got him because when I'm on the road its nice having a piece of home with you at all times, sometimes it can get lonely but not anymore with my little boy!!
You travel a lot, you must miss them …
I do miss Rafa but sometimes Vince comes and Harry comes with me EVERYWHERE!
We still miss Hudson every day 🙁    but wouldn't trade the experience of having him for the world.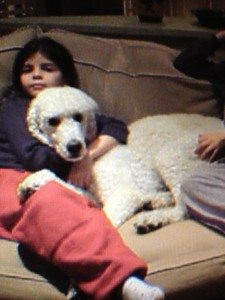 Keeping busy sharing the love with our three boys!!
---
Many , many thanks to Nikki's mom Elyssa for providing these photos!
TPK ‎    "In rescuing animals, I lost my mind , but found my soul." ~anonymous
---