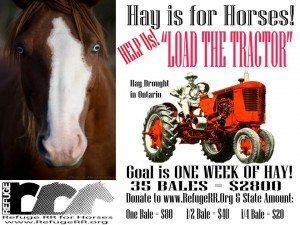 Refuge RR for Horses, a Canadian charitable organization in existence for over 22 years, has saved horses and other animals mostly from Quebec and Ontario. Apart from the present 67 horses, dogs, cats, other farm animals and birds at the sanctuary, many others have been saved from extreme cruelty and placed into foster homes. There are no employees and all donations go directly towards caring for the animals.
With a bad drought in Ontario, Canada last season it has increased the prices of bales from $50 to $80 per bale! This increase does not sound like much but if you're an Animal Sanctuary with over 100 animals that require "HAY" then it really is a lot of $$
We are fundraising to "LOAD THE TRACTOR" for ONE WEEK OF HAY! With 35 Bales of Hay needed per week it would be Very Much Appreciated! The cost of ONE WEEK OF HAY is $2800. So we have easily broke down the donations to help us load the tractor.
Tax Receipt Issued by Canada Helps site that you can easily print off and save with any donation at $25 or more! If you would like to send a cheque or money order, please let us know. However Any donation is welcomed 🙂
DONATIONS: ONE BALE = $80 1/2 BALE = $40 1/4 BALE = $20 Just follow these links – http://www.RefugeRR.org/
www.facebook.com/RefugeRRforHorses
Hit the Donate Button and make the donation you want to help you can drop down the list to state "HAY". We will receive frequent updates to let you know how the TRACTOR is doing with its LOAD!
Thank you all for your help and please SHARE, Invite, AND POST EVERYWHERE YOU CAN TO HELP!!
The total amount of animals at our Sanctuary is 480 and at least 100 of them need HAY for Warmth and Food.
Merci!/Thank you!