ONE LAST GOODBYE
Just off the West Island on rolling acres of beautiful lush land, over 2000 white markers stand about a foot tall above the ground.  Off the beaten path, you cannot see it from any road whatsoever. The only people allowed on the property are people filled with sadness. Max 2001, Baily 1985, Molly 1993. And on and on.  Here there is a sense of peaceful serenity yet it carries heavy hearts. A place of dread mixed with a sense of familiarity.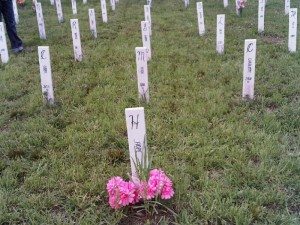 The amazing family that operates this pet cemetery does it for nothing more than to give a piece of mind back to the community.  They have been giving up a part of themselves, using their own land for over 30 years to bury grieving Montrealer's dogs and cats , snakes and ferrets. All the graves are the same; everyone here is on equal footing. A small wooden marker is given to every animal with simply their names and year they died.  This is all about dignity to a dying friend. It doesn't matter that it was four legged rather than two. Once they get the call, their arms are around them as yours were.
These are not young people. They have been doing this for 33 years. A man, a woman and their son. All three with hearts so big you wish they asked you to stay for dinner just to find some comfort in their understanding. When I told them I was writing this they asked me not to publish their name nor address. There is no sign on the road, no stories in any newspaper. No attending pet fairs to promote their business. But every practicing veterinarian in Montreal calls them to bury your dead any time, any day or night. Only then will you know where  this resting place is.
They are wrapped in a single white sheet and placed in a small grave. You are encouraged not to put anything in the ground with them that cannot decompose with the years. But they will make some exceptions . You can however put what you like on top of the grass, but if it is plastic they will remove it come the fall.
And so here I find myself for the fourth time in 12 years, standing together again to bury Sam our beloved Golden who died in January. He has been with this loving family since Dr. Prevost made the call to come…. actually while he was still in my arms.  Because the ground would have been frozen we had to wait until now to bury him.
I do not talk about my pets as if they are my children. They are not. Fur kids? Maybe. But Sam, my beautiful boy who passed after suffering from nasal cancer in January was a big part of our childless family.  My husband Rick grieves more than I, he cannot speak about Sam at all since his passing.
He was his caregiver for 6 months through so many drug trials, all the horrific nose bleeds, and trips to specialists. It seemed never ending and when it did …it came crashing down on Rick.
The first dog we buried was Harvey, our first dog as a couple .We placed his favorite toy with him, a squeaky plush hamburger. Within a few months my beloved German Shepherd Maggie passed away and this wonderful  family went out of their way so she would be next to Harvey. She was 13 and blind when we rescued her and for almost 2 years she walked  close to him to guide her. Itt was only fitting she should lie next to him now.
When Bear passed away last fall it was a hard blow, losing him within 2 weeks of diagnosis. Once you arrive at the grave site a you are asked if you would like to see them one last time. If your response is yes, they will roll back the sheet for as long as you need.  I had to see my Bear one more time. Rick pulled a letter from his coat and placed it on top of the sheet.I have no idea what was inside but I can surely guess. We placed the earth on top of Bear and said our tear filled goodbyes.
We then had to ask  something we could hardly say out loud. Could they keep the spot next to Bear for us?  We knew Sam's time was going to come sooner than later. His fate too was already diagnosed.
With that sincere smile and a hug only your grandmother could give you, she replied of course and her quiet words of sympathies.
Yesterday I promised this time I would be be reserved and calm .   I smiled at names of dogs I knew and loved who belonged to others. Hope, Charlotte, Murphy…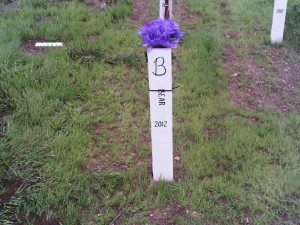 But when I arrived at the gravesite I choked back tears as I saw Bear's name next to an open grave where Sam now lay.
I couldn't  look at Sam, even covered up.  I wanted to remember him in my arms as he passed. I stood swaying with tears pouring down my cheeks.
Rick however stood over him a long time,  and  then placed a clear package on top of the white sheet.
When the family saw what it was they asked if he would like to place it  on top of Sam's chest under the sheet …and Rick just nodded, unable to speak.
Inside the bag were two pieces of heavy silver, a heart broken in two, and a note that said:
Always and Forever, my Sam.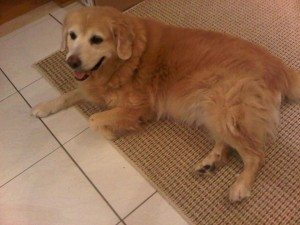 TPK ‎    "In rescuing animals, I lost my mind , but found my soul." ~anonymous