Hey there animal friends! May showers have continued into June! Bring on the flowers and sun, amirite? How's everyone livin'? Good I hope. So this week I'm reviewing Northern Dog Treats and let me tell you, Montreal dogs are totally annihilating these treats.
In doing this review I knew right away that I wanted to share these treats with others. This is for two reasons:
One, my guys eat anything (includes occasional cat shit) which wouldn't really make for an adequate review.
And two, because sharing is awesome.
Product: About them Northern Dog Treats. Why do I like 'em so?
So here's what I did, I decided (with the owners permission) to try them out on a number of dogs I meet during a work day and boy, did I meet some happy quadrupeds! All the dogs loved me because I was the girl with the cookies! Best part, they kept coming back to see me for more treats. This was the case with all the dogs, both big and small, answering my original concerns. Those being, when trying these treats out on different dogs would allergens be a problem (basic biscuit ingredients make that basically not a concern) and if these treats broke apart well (which they do. Makes for tidy nibbling.)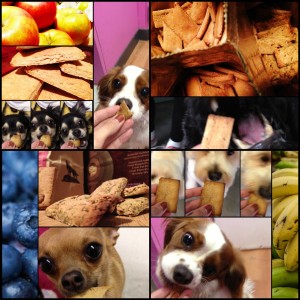 The dogs may be devouring Northern treats but I'm totally digging the co-founders, Patricia & Nick Grillo. Why do I think they're super? Because, as they say on their site, Northern makes the promise that from one flavour sold at a local farmers' market back in '92 to the more than a dozen varieties now available throughout North America, one thing remains unchanged: their fanatical obsession in sourcing fresh, local ingredients from Canadian food growers.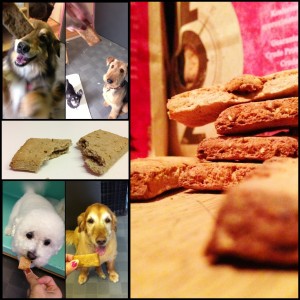 Things turnout funny sometimes. I had mentioned my review to Anna about Northern Dog Treats. She checked them out and liked them so much that she ordered some for the shop. Selling well and even better, reviewing well, Northern meets the demands of dog owners in Montreal.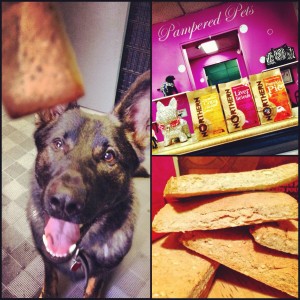 So, here's what I think:
Pros: Northern's charm isn't in how much the dogs love eating them. Northern has clearly defined itself by the love and consideration in the production of their biscuits. The rundown is this: fresh, local meats and vegetables, authentic quality and artisan baked. These treats are made with quality that allow for the pickiest of eaters to indulge.
Example, McGwire. I met McGwire back when I started at Pampered Pets of Westmount, about three years back. My meeting McGwire wasn't accidental, he's owned by Pampered Pets owner, Anna. Since meeting McGwire he's been diagnosed with Sarcoma tumors on his major organs. On the day of diagnosis vets sentenced McGwire to death within two weeks. That was on March 26th, 2012. Today we're the 11th of June, 2013 and McGwire is still picking on his baby brother, Phoenix (the photogenic Shiba Inu), and kicking his ass. March 26th 2012 revealed some news that was a bit too much for Anna to believe. The rockstar that is McGwire couldn't end without a fight.
Anna's turned herself inside-out with a smile on her face to turn McGwire's fate around. And what a turnaround! Everything changed that day. The biggest change has been McGwire's diet. Anna contributes his diet to be pivotal in McGwire's current "good" health. "Changing his diet was key. All freshly made organic foods. No preservatives, no chemicals, no dyes and no dog food." Basically McGwire eats better than most of Montreal and his life is better due to it. So, a picky mom and a dog with a well defined palette of taste can both agree to like Northern biscuits because of the wholesome ingredients and their great taste.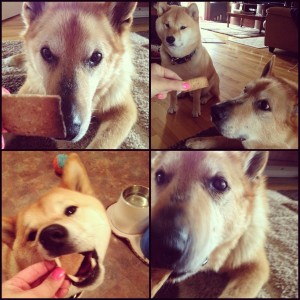 Okay, taste and quality are rad, what's better? Something that's good for you that's also good for others. Northern Dog Treats doesn't limit it's consideration. This is where Northern brings their charm full circle, their community support for the two and four legged.
When you buy Northern Dog Treats you're supporting local animal rescue organizations, local environmental initiatives, and local Community Living groups. Not ending there, environmentally conscious packaging and production, Northern realizes that they're in business for you and your furry friend, personalizing their company and their clientele.
Cons: Sensitive gums beware, there are no soft alternatives of these treats.
Overall: Tails be wagging! Northern Dog Treats highlight the important correlation between both eating and living well.
Where to Buy: Pampered Pets  or contact: information@northernbiscuit.ca for more distributors.