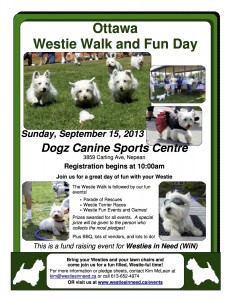 Ottawa Westie Walk and Fun Day this year on Sunday September 15th, 2013.
The walk will be held at the same location as last year..Dogz Canine Sports Centre, 3859 Carling Avenue, Nepean, Ontario. Click here for a map.
This is one of WiN's MAJOR fundraisers…it is a lot of fun and a great opportunity for Westie owners to get to know each other. We ask the walkers to make donations the day of the walk or get pledges beforehand. To download a pledge form, just click here.
The day begins with registration at 10:00 am, followed by pictures taken of each participant, then a short walk around the park led by our wonderful Scottish bagpipers!.
To download a flyer with all the Ottawa Westie Walk info, click here!
For more information visit Westies in Need click here