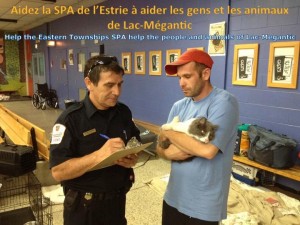 Jul 09 2013 – Due to the tragedy that happened on Saturday morning in Lac-Mégantic, the whole community is in great need of help and support. It was announced today by The Eastern Townships Society for the Protection of Animals (SPA), that they have been in Lac-Mégantic since last Saturday in order to help the population, as well as the authorities and the various intervening organizations and individuals on site.
According to the Eastern Townships SPA,veterinary doctors, patrol officers and other employees with specialized skills were sent to Lac-Mégantic in order to set up an emergency shelter at Montignac high school for people with companion animals who couldn't return to their homes. Food, cages, and blankets, as well as medication and surgery supplies, among others, were brought to the site.
Part of the Eastern Townships SPA's help consists in helping evacuees. "The Eastern Townships SPA's patrol officers, who are authorized to cross the security perimeter, are assisting evacuees in returning to their homes in order to feed their pet or retrieve them, explains Cathy Bergeron, communications manager and spokesperson for the Eastern Townships SPA. Since Sunday, they have assisted more than a hundred citizens, visits that were truly appreciated."
"It is important to understand that the Eastern Townships SPA is on the site of this tragedy first and foremost in order to help these people who are very worried and who are going through very difficult times, she continues. We are trying to slightly alleviate the hardship they are going through by, among other actions, assisting them to their homes so that they can make sure their pet is ok, feed them, or retrieve them if they wish. As the hours pass, we are adapting our services according to the needs that arise" said Ms Bergeron.
Their presence at Lac-Mégantic goes beyond just assisting and providing sheltering services. They also answers lost animal concerns and, when needed, provides the necessary veterinary care to pets and other animals that might be injured. The SPA works in close collaboration with the Clinique vétérinaire du Lac, the animal control service of Lac-Mégantic, and the Clinique de stérilisation des petits animaux de l'Estrie.
Families are now homeless and many families are still looking for their loving companion animals after they had to evacuate their residences. The Eastern Townships Society for the Protection of Animals (SPA) is reaching out to the public for help. In order to help continue its support work, the Eastern Townships SPA is asking for monetary donations that will be used to cover the costs associated with the operation.
To send a donation to the Eastern Townships SPA, individuals can choose among the following options:
Cash donations and donations by check or credit card directly at the shelter of the Eastern Townships SPA (1139 Queen-Victoria Blvd. in Sherbrooke), between 10:00 AM and 5 00 PM, Monday through Saturday.
Checks must be addressed to the Société protectrice des animaux de l'Estrie.
Credit card donations by phone, at 819- 821-4727, ext. 112, between 10:00 AM and 5:00 PM, Monday through Friday.
Online donation via

CanaDons

.
Johanne Tasse, head of the Companion Animal Adoption Centres of Quebec (CAACQ), made her concern known the minute it was announced that the community was evacuated. "We were informed that people were evacuated…but there was no mention about the animals" states Ms. Tasse. She explains that it is very discouraging that the Quebec government has not created strategies for evacuation in case of disaster.
Ms. Tasse made reference to how the United States, following the disaster caused by Hurricane Katrina, the American federal government created in 2005 and adopted in 2006, The Pets Evacuation and Transportation Standards Act (PETS).
The PETS Act requires that the State and local emergency preparedness authorities include how they will accommodate households with pets or service animals when presenting these plans to the Federal Emergency Management Agency (FEMA).
So far, there has been no statement or press release provided by Quebec Department of Agriculture, Fisheries and Food (MAPAQ) on how they will get involved in helping animals in the area of Lac-Megantic.
Like The Eastern Townships Society for the Protection of Animals (SPA)on Facebook Click Here
Across Québec: One minute of silence will be observed, Wednesday July 10th at 12 noon, precisely.
Support for the people of Lac-Mégantic
www.faceboook.com/LacMegantic