It was the end of 2012 and while walking my pups, we heard baby meowing from a bush, a small black cat was alone crying. My friend and I looked all over the place to see if more kittens could be found or if mamma cat was close by. It was obvious that the little cat was abandoned because he was black. The black cat syndrome of ignorance is still prevalent on certain people. She was less than 2 months old when we found her. She had to still be bottle-fed and she needed all the attention and love that she deserved. My friend was quick to say, I will take her and take care of her. She named her Fifi and she is as happy as can be at her new home.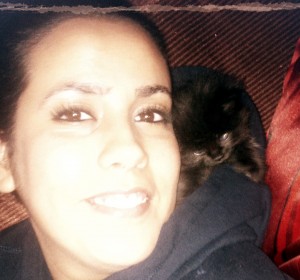 After that, my friend's sister rescued a little kitten. He was found in the mens' bathroom inside of a fast food restaurant. One of her friends called her over to see a little kitten frozen in fear at a corner of the bathroom stall. She took him in and promised to give him a home. She named him Caesar. To me it was funny because it goes with the story of how he was found.  Emperor Caesar the cat found next to the throne!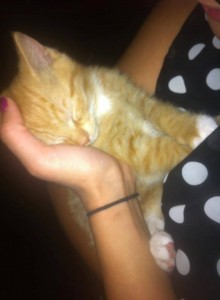 Now, the two sisters were in a bit of trouble. They are a family of three sisters living in Canada on their own. They needed help to do the right thing: spaying / neutering. They had to face the charges of a vet, but didn't count on suddenly having to cover cost for both of the cats.  I shared with them that Dr. Amanda Glew and Best Friends Spay Neuter Clinic could help. Then, made the appointment thanks to Suzannah Vanson. The Best Friends Spay Neuter Clinic,  is a separate clinic run by Dr Glew, and uses the facilities of Timberlea Vet Clinic, providing a low-cost alternative to encourage sterilizations and vaccinations for those watching a budget.
At the time of the arrival to the clinic, Diana greeted us. Friendly with a kind-hearted smile, she makes everyone feel welcome. My two friends were so anxious about their rescue babies going into the surgery. But the nice atmosphere and other animals there to be sterilized made them feel comfortable and reassured them they were doing the right thing. After three hours, we came back to the clinic.
Caesar and Fifi were now vaccinated and sterilized. It was affordable and a great surgical performance by the team of Dr. Glew.
The sisters did the right thing –  they saved two lives and did the responsible act of having the kitties seen by a vet, vaccinated and sterilized.
It is difficult to understand why people ditch animals to fend for themselves. Fortunately, these two kitties were lucky to find themselves around people who care enough to make a difference. The services of the Best Friends Spay/Neuter clinic lend a friendly hand to the people who want to improve the lives of animals.  That is what Best Friends are for, right?
Contact Timberlea Vet Clinic at: (514) 505-6555