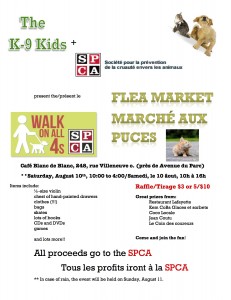 K-9 Kids will be holding a Flea Market on Saturday, August 10th, at Café Blanc de Blanc (248 rue Villeneuve O.) to raise money for the SPCA Walk on All 4s event.
It will be SO MUCH FUN! They will have all different items, and great raffle prizes! Tickets for only $3 a ticket or 5 for $10! 
Please come by and show your support!
You can also help by:
Donating items you don't need to the event.  If so, please send an email to:

mikaylapop@gmail.com

 If you would like to donate on line please

click here