Hey there Montreal Dog Blog readers! So, sadness with summer almost being game over but I'm going to talk about some fun stuff you can do outside even as the weather gets cooler. Dog agility! Dog agility is pretty amazing to watch but that's not why I love it. I think it's rad because of the sense of pride the dog derives from it that's really special. Something else that I think is really special? Tulip. Tulip is this Sheltie that I know that's completely inspiring. She also does agility. But that's not why she inspires me.
Last November a friend of mine named Miranda moved to beautiful Halifax with her boyfriend Mike, two cats, Sencha and Alaska, along with her three dogs: Nelly, Roxy and Tulip.
About a month later Tulip got hit by a car.
Tulip didn't get hit by a Kidillac pedal car, it was a full-on horse power vehicle that left Tulip dealing with two months of hourly/daily vet attention and months following of physio. Tulip is up and running in good health now but I don't think she would have made it without the dedication Miranda and Tulip have for each other. I mean, what's the will to live if there's nothing to live for?
This is why I've introduced y'all to Miranda's awesome animal family, because the product I'm reviewing, Superior Farms Pet Provisions animal treats, are all about well-being and pet-owner relationship. "Proper training is essential for a dog's wellbeing and the relationship you will have with your pet.  Positive reinforcement training done with words, behavior and dog training treats makes the task of training your pet enjoyable and easier for the both of you." – says Superior Farms Pet Provisions.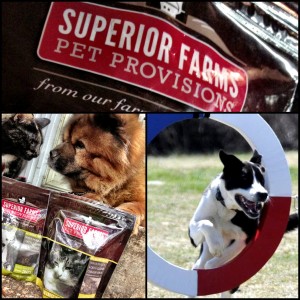 Product: Superior Farms Pet Provisions make single ingredient treats out of superior quality meats and good will. I'm dancing Miranda – registered vet tech, currently doing a certificate in Natupropathic Animal Care and working as a dog trainer for a private company and volunteering at the SPCA in the Train to Adopt program –  into this review now:
Hey there Montreal pet owners! Miranda here. My dogs are treat connoisseurs, as I have used reward based training methods to train them in obedience, tricks and agility.  Almost every time they get a treat it is earned. This is how they learn new behaviors and also how I keep their training in tune! In order for a treat to be useful as a reward in training, it has to be small, tasty and healthy. Superior Farms Pet Provisions treats meet all these criteria.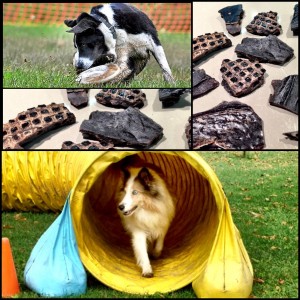 Pros: The liver snaps smell really good, and the dogs immediately came running when I opened the packages, the treats are easy to break up into smaller pieces as well. Best of all, they are healthy, all natural and single ingredient! The cats enjoyed the lamb treats as well!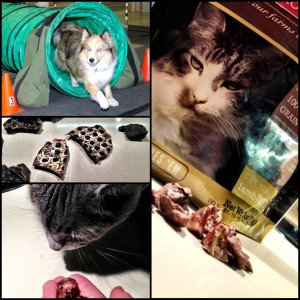 My take on reward based training, treats can be a valuable tool to help your dog learn new commands and manners. When used correctly reward based training results in a well-trained dog that is happy to work with you.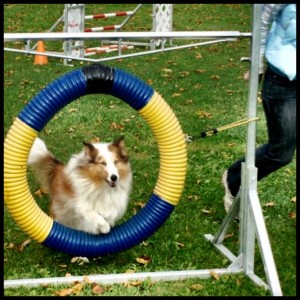 Reward training is a very dog friendly training method as it works with the dogs' natural drives and is force free. All dogs have basic drives for food, affection, play and freedom, food is often the easiest to use in training as it is the most reinforcing for most dogs. The dog is rewarded for performing desirable behaviours, such as not jumping up, giving eye contact, or walking on a loose leash. Alternately new behaviours are lured, meaning a treat is put close to the dogs' nose and the dog is guided into position.
[youtuber youtube='http://www.youtube.com/watch?v=VArBb1PlgoQ&feature=youtu.be']
(Nelly is 4, adopted at 7 months. Was abandoned at a vet hospital. Likes- Swimming, frisbee, playing ball, agility, running through the woods and sleeping on the bed! Dislikes- baths, riding in strange cars, smoke.)
The key with positive reinforcement training is to fade that lure as quickly as possible so that the dog doesn't get dependent on it to do what you ask it to do. When the dog is more reliable with responding to the command in many different environments and with distractions then the next step is start to fade out the reward, by only rewarding the best responses. Remember, though that that reward is your dog's paycheck, so even when the command is fully trained you should still reward it from time to time.
The notion that dogs have a desire to please and want to work just for you is pretty self centered, dogs like rewards as much as we do. A reward doesn't always had to be food however, it can be access to other dogs to play with, or getting released off the leash. A behavior that is reinforced always gets stronger, and you want to make sure that the right things are getting rewarded.
[youtuber youtube='http://www.youtube.com/watch?v=jTQ1q2jB_s8&feature=youtu.be']
(Tulip, 9 years, adopted from animatch at 2 years. Abandoned as they were too busy and she barked. Likes- chasing whales, swimming out after Nelly, ducks, treats Dislikes- thunder, fireworks, barking dogs, skateboards.)
With new dogs and puppies the quickest way to get them trained when you first get them is to attach them to your waist, arm yourself with their daily ration of kibble and reward them for all of the behaviours you like! You have to feed them anyways, and they might as well be learning at the same time! If the dog or puppy is attached to you he is not able to get into trouble, and you are right there  to notice and reward all the nice calm behaviours they offer such as sitting instead of jumping up, giving eye contact, waiting instead of bolting through doors, or settling at your feet.
[youtuber youtube='http://www.youtube.com/watch?v=45GgrDqxEJY&feature=youtu.be']
(Roxy, 5, adopted at 1 year. Owner was getting rid of her as they got a smaller dog. Likes- food, eating, looking for food, furry animals, running in the woods, rock fetching Dislikes- Baths, sleeping in the bed with people, fluffy white dogs.)
Positive training is all about being proactive and setting your dog up for success. It is so much easier to teach your dog the right response to start instead of waiting for him to develop problems and then try to fix them! Take it easy Montrealers, from the east coast. – Miranda
… aaaand I'm back. So, the dark side of these treats? ..
Cons: Nope. Not a one. All the animals that were introduce to these treats enjoyed them! And all owners that looked them up loved them!
As Superior Farms Pet Provisions states on their site, "proper nutrition is a fundamental pillar for health and well-being not only for people but also for their pets. We believe that natural is best, whenever it is possible and strive to offer a treat and chew line that is reflective of our philosophy: keep it pure and simple. At Superior Farms Pet Provisions we offer all natural, wholesome treats that are grain and gluten free and contain no artificial colors, flavors, or fillers.  Our treats and chews are made of 100% lamb or venison, as pure as it can get!" – its truth you guys. These treats really are super.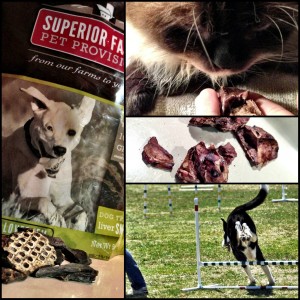 Overall: Well, I hope everyone enjoyed reading Miranda's review but I also hope you consider what she said and that you also consider Superior Farms Pet Provisions. They really are superior treats that pets really do respond remarkably well to.
Price: up to $14.99
Where to Buy: www.superiorfarmspet.com
So, in my next blog I'm going to have some dogs take-on an anaconda!! (for the manufactures at Invincibles Toys.)
Hope you wonderful animal people are enjoying what's left of summer and oh, ps. here's a video of Jack eating some of the delicious cat treats by Superior Farms Pet Provisions:
[youtuber youtube='http://www.youtube.com/watch?v=w6hKUHj1Gn4′]
writers note: Huge shout out to Miranda for the fun videos, lovely photos and super advice!