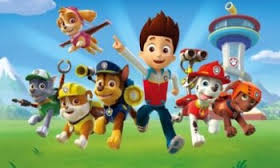 According to a press release by Nickelodeon Network, parents can celebrate the dog days of summer with the launch of the new CG-animated preschool series, Paw Patrol. The cartoon started being televised in the USA on Monday, Aug. 12, at 8:30 p.m. (ET/PT).  Paw Patrol stars a pack of six heroic rescue pups – Chase, Marshall, Rocky, Rubble, Zuma and Skye – who are led by a tech-savvy boy named Ryder.  Together they work hard to protect the Adventure Bay community believing, "no job is too big, no pup is too small!"  The series features a curriculum that focuses on citizenship, social skills and problem-solving.  Paw Patrol, a co-production with Spin Master Entertainment, will regularly air weekdays at 12 p.m. (ET/PT) on Nickelodeon.  The series will begin airing on Nickelodeon's international channels in the fall.
In conjunction with the Paw Patrol launch, Nickelodeon has partnered with the ASPCA® (The American Society for the Prevention of Cruelty to Animals®) to help deliver the organization's message promoting the humane treatment of animals.  Preschoolers will learn about pet care and how to be an animal advocate through events, online activities and printables featuring Paw Patrol characters and themes.
According to C12Media Two Canadian broadcasters have picked up  Paw Patrol, based on a concept by Bob the Builder creator Keith Chapman. According to Nico Franks for C12 Media, TVO Kids and Knowledge Network will begin airing the preschool toon on September 2. Paw Patrol is the first solely owned property from Canadian toyco Spin Master's prodco Spin Master Entertainment. TVOKids, a daily children's programming block on TVOntario (TVO), Ontario's provincial educational television network, and British Columbia's Knowledge Network, a Canadian English language public educational cable television network in the province of British Columbia, will start to show episodes of "Paw Patrol" from Monday 2nd September 2013.
At NickJr.com, Nickelodeon's award-winning website, viewers can watch the Paw Patrol trailer, print activity packs, and will be able to submit photos of their preschoolers with their pets for a chance to be on TV.  On Tuesday, Aug. 13, the series premiere will be available on the site.  The excitement for Paw Patrol will continue as printable party supplies and a new game are scheduled to launch this October.
No word if it will be televised in Quebec. But parents can still visit NickJr.Com Website and print the activity packs for their kids. Coloring pages, stickers, pet care charts and more!