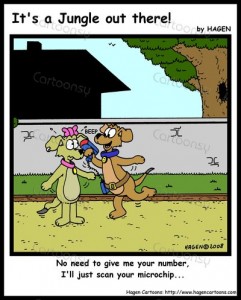 Does your pet have a microchip?
A microchip is an electronic device the size of a tiny grain of rice that is inserted under the animal's skin. It is a capsule containing a unique identification number that is linked to a database containing important information about the animal, including its owner's contact information.
A microchip clinic in Saint-Laurent Borough
When: Sunday, September 29, 2013
Where : Centre des loisirs de Saint-Laurent (1375, rue Grenet)
Cost : $ 20 per animal. This amount must be paid on-site in cash or using a credit or debit card.
Mandatory registration online before September 6, 2013, at :
ville.montreal.qc.ca/saint-laurent/animalcontrol
Important : Registrations will not be accepted onsite. Only animals wearing the Borough tag will be
microchipped. Nonetheless, tags can be purchased at the site.