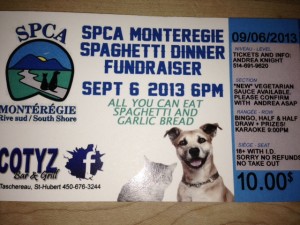 K-911 would like your help by making a  donation to the SPCA Montergerie either by attending the supper or going to their website or by phone to make a donation in helping our stray dogs n cats getting the medical treatment necessary and in helping them find new forever homes.
Spaghetti dinner fundraiser held at Scotyz Bar & Grill. $10.00 per ticket.
All proceeds will be going to the SPCA Monteregie Dog Walk which will be held September 6, 2013.
Great food, half & half draw, Bingo and prizes, all for a great cause!
If you cannot attend the supper, please go to their website and make a donation because every bit counts when it comes to finding homes and medical treatment for our abandoned animals.
http://www.spcamonteregie.com/contact/
3979 Taschereau, Montreal, Quebec J4T 2G5
Every bit counts and lets do what we can.
Wayne G. Smith
v.p and co founder
t: 514-677-4357
f: sans frais: 1-866-409-3746