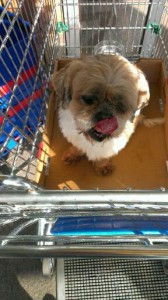 More than a month ago I found a pup sitting in a shopping cart at the entrance of the supermarket. The kind people that worked there had seen him wandering around the parking lot and decided to take him in before any accident could happen. It was obvious he was abandoned. They saved his life but unfortunately no one could take him home.
My husband and I knew we could not bring him with us because of Nanners. The pup was an unneutered male and I didn't know how Nanners would get along with another male. I decided  to take a chance and went to ask my neighbors if they could take care of him,  until I could find out if someone was looking for him or I could find him a foster home.
I knew she (my neighbor) was an animal person, we had been talking about animal adoption and she was even making plans to go to the Beaconsfield Adoption Fair to see about giving a furry friend a home. When I came to see her and told her about the pup we found, she said yes.
I gave her everything she needed, food, crate, blankets, toy, collar, leash etc.
Once she had the pup in her arms, I saw that smile, full of tenderness and compassion. She told me she would help him until I could find his owner. The days passed by and although we did everything that could  be done to find the owner,  no one showed up. I had two friends that were willing to foster him if she wasn't willing of taking care of him anymore.
When I came to tell her the news, she told me that she and her husband loved him already and wanted to give him a home. It was the best news in the world. They named him Rouky , and Rouky felt at home. It was as if they had known each other for a long time.
Rouky was the best dog, he listened to them, he didn't even try to run when the door was open, not a single accident in the house,  and the best thing of all is that Rouky was relaxed and happy in his new home. He was taken to the Vet and all the tests were done. Everything came back OK and now he just has to do be neutered. Which will be done at the end of September.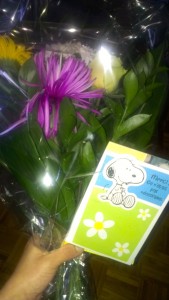 I was happy and blessed to see a family complete with their new rescue pup. A few days after, my neighbor came to visit with Rouky.  They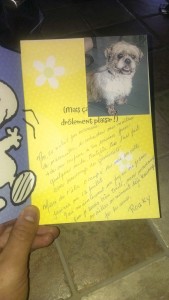 came to give me a card and flowers that Rouky had gotten for me. The card read:
"Well, it wasn't necessary for you to pick me up, to look for my owners, to entrust me to your neighbors for just a few nights…and yet you did with a lot of generosity. Thank you for taking care of me on that 12th of July. Now I have a home where I am very well taken care of and my new family loves me very much…I feel it!  Rouky"
I never expect anything from anyone when I do something. I do it because I love to do what I do and I am always willing to help anybody that has good intentions. But this time, it really touched my heart. It was the first time I had read a card written like that.  I cried just thinking of what animals could tell us in words when we do something for them.  We see their gratitude and love in their eyes. I know if you are a rescue dog parent…I know you understand just what I am trying to say.
A good life is ahead of you little Rouky. You went from me seeing you alone in a shopping cart to  being a very loved pup in a bike cart with your lovely family.
Thank you Ginette and Michel for everything.
To read the first blog about Rouky click here