Hey MDB readers! October is here and that means that responsible rational reality kicks back into full gear  – but not without the help of the best festival!  That's right! Recently, nerds, dorks, and geeks united  for the convention, ComicCon. The theme was super heros and the unbelievable incredible and what better way to help bring out your inner super hero and your dog's most super sidekick than to be doing a review for Invincibles Toys?!
Word on the street is that these toys are indestructible. Rumors can sometimes be true. They say you can't kill the Batman and it's true, you can puncture an Invincibles Toy and it still squeaks! Oh my gosh!
Obviously a prolonged squeak life is awesome because the dog will maintain its interest in the toy longer. Making a more durable toy for your furry dude or dudette. Oh, and it's clearly a smart buy because, in theory, you shouldn't need to replace it for a while.
Product: So when I found out that I was going to be doing a review for Invincibles Toys I was really excited – who doesn't like toys? But when I received the snake in the mail I hit the roof with excitement!  (I was the only one #sadface)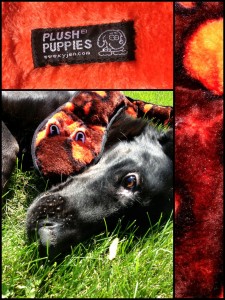 Pros: Invincibles Toys are made super well. Stitching is solid and the design presentation of the toys is phenomenal. Detail to attention is thorough making the toys not only fun for the dogs but also for the owners when buying.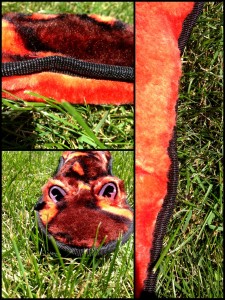 Cons: Okay, here's why I was the only one that was excited about the snake: because nearly every dog I introduced it to was terrified of it. I cannot implore this enough, START SMALL with Invincibles Toys.
So nearly every dog that met the snake (I introduced the snake to six dogs) went running in the opposite direction.
Question: Why is everyone afraid of snakes? They're super cool.
I was beginning to give-up hope in finding a dog that could see how mind blowingly fun this toy was when a supernova came shooting through a blue sky on a Tuesday evening and I thought about a chi named KiKi. All I have to say is that if you want something done right, get a chihuahua.
Here's KiKi taking on this plush anaconda and kicking ass. Not once, but twice.
[youtuber youtube='http://www.youtube.com/watch?v=ijKUYoX1_6s&feature=youtu.be'] [youtuber youtube='http://www.youtube.com/watch?v=HZiTYl0uQ_M&feature=youtu.be']
Overall: Personality is defining. It took the smallest, roughly 4 pounds of fighting fury, to demonstrate that Invincibles Toys  are wicked fun. These toys are wonderfully designed, the squeak lasts, and are made as tough as a truck.
I went to town puncturing the heck outta the Invincibles snake and aside from having a blast doing it, it was incredibly hard to puncture the squeak balls inside the snake. Not only are the squeak balls made durable but the fabrics surrounding said ball are also incredibly durable making the destruction of this toy requiring incredible effort. These toys are superior and are in total suit with the title of 'invincible.'
Price:  approximately $10 – 20 
Where to Buy:  Shop Online here