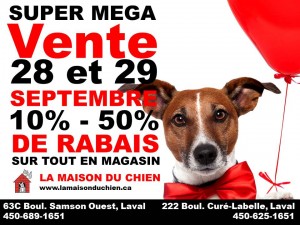 La Maison du Chien is not your average animal supply store. In the store you can find a wide variety of quality products and services for your best friend. So come and sniff around and find out why they are  Laval's #1 hot spot for your furfriend!
Services:
Hotel & Club for dogs
SalonSpaw for cats and dogs
Boutique
Health food store
Find them at two locations!
222 Boul. Curé-Labelle
Laval, Quebec, H7L 3A1
(450) 625-1651
63c Boul. Samson Ouest
Laval, Quebec, H7L 3A1
​T / (450) 689-1651
Like them on Facebook Click Here