It's the 2nd year for the 2014 Calendar benefitting local animal rescues!
BE A SPONSOR! 
Join a growing community that believes in the tireless work of animal rescues. The people that work with animal rescues are the unsung heroes who deserve recognition and financial help. That's why the Guardian's Best Animal Rescue Foundation was formed and we are looking to you to be part of the solution.
Get your chance this year to be part of the 2014 fundraising calendar. You have the opportunity to purchase a full month ad or smaller banner ads. You will have a professional photographer come to your place of business and take a hi-res, aesthetically-rockin' image to show you off!
Ideally we'd love a photo of your pet or you AND your pet! But, if you want to get creative, you could hold a contest with your clients and feature them and their pets on your calendar page! Sky's the limit!
Your full-page month will be divided with the photo being 3/4 of the page. And the rest will be your logo/ad (provided by you). See calendar specs below.
COST: $800 (100% tax deductible as a business expense).
OR
Purchase a smaller banner ad. We'll ensure it doesn't compete with another business on that particular month. The artwork must be provided by you.
COST: $200  (100% tax deductible as a business expense).
3000 professional copies of this calendar will be distributed throughout Montreal (a stack will be made available to give away in your place of business). They will be 100% free to anyone who wants one!
NEW! Want be a cover model? In the interest of raising as much money as we can for charity, we are now offering up the front and back calendar covers for $950/each. 
But that's not all:
THE AWARDS CEREMONY 
On November 9th, 2013 all sponsors are invited to the Quebec Animal Rescuer of the Year Awards Ceremony featuring delicious appetizers, media and local celebs: (MC'd by local radio host and creator of Montreal Dog Blog, Nat Lauzon).  (check out what happened last year!)
We'll celebrate and recognize a "Rescue Group of the Year" and present that rescue with a nice fat cheque derived from your ad buys! Excluding the marginal portion of funds that will go to the calendar publishing, space rental, etc., this will leave a ton of cash that we will be proud to hand over on your behalf.
THE CALENDAR SPECS
Here are the proportions for the calendar spaces (click to enlarge).  Graphic artwork is provided by you (professional photos, if applicable, are taken by us).
The artwork must be high-resolution, 300dpi and our specs below.
The first image represents the large ad buy for $800. Your custom photo will occupy most of the space, along with room for your graphic ad.
The second image below represents the $200 banner ad (lower right). The ad seen on the bottom left will be a free ad for a local rescue.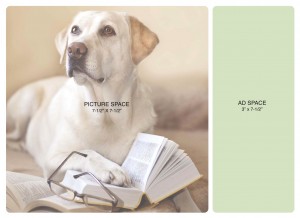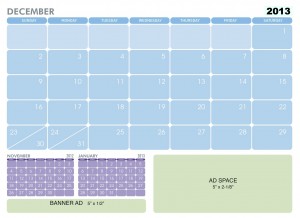 So, what do you say? Want to be a part of an exciting philanthropic event in your own city?  You can help effect change in Montreal and create a legacy that supports and recognizes rescues year after year.
FOR MORE INFO/TO RESERVE YOUR SPACE: 
Andrea Kremmel, Director of Public Relations, akremmel@guardiansbest.com 514- 501-9995
Wallie Seto, President of the foundation wseto@guardiansbest.com, 416-534-9572