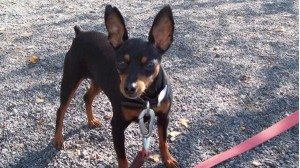 I found Trixi and Bille on the CTV Montreal Pet Rescue Section! I had no idea they have a segment where they showcase dogs that need a home!Once a month,Johanne Tasse of Companion Animal Adoption Centres of Quebec, joins CTV Pet Rescue in effort to save animal lives.
This tiny dog, named Trixi, is a full-grown six-year-old Miniature Pinscher.She was found wandering last week and has not been claimed.Trix gets along with other animals and should be an ideal fit in a home with young children.Her big ears on her pint-sized frame contribute to her lovable charm, and if it makes you want to pick her up and give her a cuddle, go right ahead! Trixi loves to be held.
Being a tiny dog she does not need much exercise, and would get along well with a quiet household.
To adopt this five-pound pooch, contact Claire-Lise Lalande at La Pension du Jardin Secret at 450-883-3011.
Bille is a young dog who is about a year and a half old.
We don't know why his previous owner's gave him up because they abandoned him to run wild. He was found roaming on his own without a collar. Bille gets along well with other dogs, cats, and with small children. However, since he is young, he could use more training and education. He also needs to stay active and gets lots of exercise.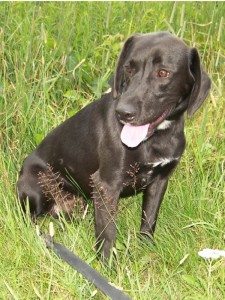 To adopt Bille, contact the SPCA Laurentides-Labelle at 1-866-960-7722.