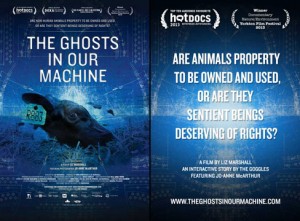 Montreal Dog Blog is happy to announce to all our readers that The Ghosts In Our Machine is finally here! IndieCan Entertainment brings to Montreal the acclaimed documentary directed by Liz Marshall: The Ghosts in Our Machine. The film will be presented at Cinema du Parc in Montreal. Montrealers will now have the chance to view Liz Marshall's documentary that follows the vocation and devotion of animal activist – photographer Jo-Anne McArthur.
Jo-Anne McArthur? Does that name sound familiar? Yes you are right! She is the woman responsible for the pictures of the pups recently rescued by Humane Society International Canada and the Montreal SPCA from a breeding facility. Jo-Anne has also been at Teja's Animal Refuge and taken pictures of animals rescued by Nicole Joncas. Jo-Anne has taken pictures of animals in so many different locations that although I could try mentioning each place…I think I could miss many of them.
What is the film about?
Award-winning director Marshall follows Jo-Anne McArthur for over the course of a year. What society sees as food, fashion, entertainment and research, McArthur captures the sentient beings that are victims of human's daily routine. This is all part of the project called We Animals that is dated to be released during fall of 2013.
I believe that those concerned about animals in our society should go watch The Ghosts In Our Machine. If you can, bring a friend that is not concerned about animals to watch it with you. Give your support to animals by watching the masterpiece directed by Liz Marshall. We owe it to the animals…at least to watch what their life is about.
Montreal Dog Blog and animals
I started blogging for MDB about 3 years ago. Nat Lauzon brought different people together with one purpose: communicating how much we truly care for animals. Through MDB we have been able to communicate to people not only about dogs; we have shared stories about, rescued cats, rescued dogs, rescued chimps, rescued farm animals, rescued birds and even rescued wild animals. We have covered the topic of animal testing and Nat and Shelly have even been to  the Fauna Foundation to visit rescued chimps that are now in the sanctuary. On our Facebook page we have shared the different stories and YouTube videos of rescued Beagles that have been also freed from labs where they had to endure animal testing. We have also posted pictures, fundraisers and events for Teja's Animal Rescue and Refuge RR for horses where we see a lot of farm animals being helped. It is easy to conclude that Montreal Dog Blog is a blog for all rescued animals and we try to share as much information as we can on the topic of why these animals need rescue.
Take the time and go watch The Ghosts in Our Machine! This Canadian film has now completed the funds to show the movie in the United States. It shows how people want to know more about the animals and want to get to know what it takes to be someone like Jo-Anne McArthur.
The screening of the shows will happen at 7pm. These are the screening dates that will include a period of questions and answers with Liz Marshall:
Sunday September 29th – Q&A with Director, Producer Liz Marshall and Special Guest Alanna Devine, CSPCA Director of Animal Advocacy.
Monday September 30th – Q&A with Director, Producer Liz Marshall and Photographer, Protagonist Jo-Anne McArthur.
Tuesday October 1st – Q&A with Photographer, Protagonist Jo-Anne McArthur and Special Guest Alanna Devine, CSPCA Director of Animal Advocacy.
The theater is located at 3575 Park Ave, Montreal, QC H2X 3P9
The Ghosts In Our Machine has been praised from the likes of Woody Harrelson, Bill Maher, and James Cromwell and by international animal and environmental advocates. Radiohead agreed to the use of their song "Give Up The Ghost" for use in the film.
Masterful … A vital film that needed to be made at this point in history and has been made magnificently.

– James Cromwell, Actor

The truth can be hard to take, but we have an obligation to look and see what's going on, and, if we don't like it, a chance to stop going along with it. This important film provides precisely that insight and that opportunity.

– Bill Maher, Host, Comedian