Rescues get your FREE Banner Ad 
We are offering by lottery a free banner Ad for your rescue group in the 2014 Guardian's Best Animal Rescue Foundation Calendar.  You can see an example of the ad space at the bottom left, here (click to enlarge):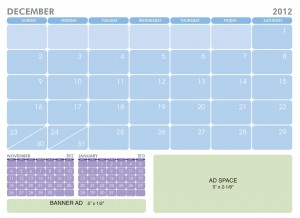 ---
The Specs 
Your banner submission must be:
 5 inches long by 1/2 inch wide
 300 dpi
 Any images must be hi-resolution. Though, for clarity in this size of space  – it might be best to use text only
 There are no rules as to the content.  Some basics you might consider:  your name, website, contact information, perhaps a tagline
---
The Deadline 
The deadline for any ad submissions is Friday, October 25th at midnight, the same due date for applications for the grant.  Send your completed, properly-sized ad to: admin@guardiansbest.com
---
The Banner Ad Lottery: 
Banner Ads that will appear in the calendar will be selected by random lottery from all of our submissions! (note: you cannot select the month it will appear)
There will be 3000 copies of the calendar in circulation – and your ad is free!  So, well worth it to send your banner along!
Good luck everyone!