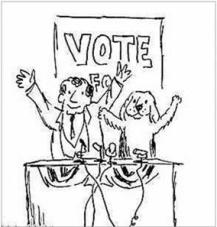 The Montreal SPCA has sent out a press release communicating to the public that they have taken action and sent out a series of questions to all mayoral candidates regarding animal welfare.
"As the election date draws closer, the Montreal SPCA believes that by having the mayoral candidates answer questions directly related to animal care and control issues that fall squarely within the purview of the powers of municipal government, that it will help give citizens a clearer picture about mayoral candidates' plans for addressing these issues, were they to be elected."
The Montreal SPCA encourages the residents of Montreal and journalists to address these issues with mayoral candidates. Montreal Dog Blog's Liliana Danel has been asking the candidates and tweeting to them about animal welfare since since October 9,2013.
These are the questions sent out by the Montreal SPCA:
(1)  Questions regarding animal care and control services:
Background: In April 2011, Radio Canada aired an undercover investigation at the private-for-profit pound, Berger Blanc, which illustrated some of the serious problems with the animal care and control measures in place in many municipalities in the city of Montreal. In particular, the investigation raised critical questions involving the overpopulation of companion animals. Over 30,000 stray and abandoned companion animals are impounded each year in the city of Montreal, a staggering number when compared to other major cities in North America such as Boston, Toronto, and Vancouver. Another issue that has been highlighted is that the services and by-laws relating to animals vary drastically from one municipality to another within the city of Montreal. Our questions on this issue:
If elected, as mayor of Montreal, what concrete actions would you take in order to address the companion animal overpopulation crisis in Montreal?
If elected, as mayor of Montreal, what measures would you implement to ensure that all citizens and animals, in all 19 boroughs of the city of Montreal, have access to harmonized, humane, responsible, and effective animal care and control services?
(2)  Questions regarding pet store regulations:
Background: The issue of puppy/kitten mills (where animals are kept and bred in shockingly poor conditions) in the province of Quebec has garnered significant attention. One of the main concerns of citizens and animal welfare organisations is the sale of cats and dogs in pet-stores. In particular, there are concerns that pet stores enable unsuspecting consumers to purchase animals sourced from puppy/kitten mills, promote impulse purchases of unsterilized animals, and also send the message to citizens that companion animals are a commodity that can simply be purchased on a whim like an inanimate object.
The regulation of pet stores falls squarely within the municipal authority of the City of Montreal. Many cities across Canada, such as Toronto, Vancouver, Richmond, Windsor, Ottawa, and Hamilton have already adopted, or are in the process of adopting, by-laws strictly limiting the sale1 of live animals in pet stores. Regulations of this nature already exist in many American jurisdictions2. Our questions on this issue:
If elected, as mayor of Montreal, what measures would you implement to ensure that live animals sold in pet stores in Montreal do not come from puppy and kitten mills and to ensure that pet stores do not contribute to the companion animal overpopulation problem we already have in this city?
If elected, as mayor of Montreal, would you consider adopting by-laws, such as those adopted in Toronto, requiring pet stores to work with local rescues and shelters to adopt animals instead of placing animals for sale?
1 These by-laws permit the adoption of animals through pet stores, where pet stores partner with local shelters or rescue groups and help place companion animals in need of homes.
2  Such as Hermosa Beach, South Lake Tahoe and West Hollywood, California; Austin, Texas; and Fort Lauderdale, Coral Gables, Lauderdale Lakes, Flagler Beach, North Bay Village and Opa-Locka, Florida
(3)  Questions regarding carriage horses:
Background:  In the last several years, there have been a number of accidents involving horse-drawn carriages in Montreal that have drawn attention to this industry in our city and the inherent problems it poses en terms of horse welfare and human safety. Many citizens and animal welfare organizations, including the Montreal SPCA, oppose the use of horses in cities for the pulling of carriages because it subjects the animals to unacceptable living and working conditions. Other concerns are that carriage horses in downtown Montreal present a danger to humans, as horses are prone to spooking in response to loud noises from cars and traffic. The majority of these horses are forced to live in cramped, filthy stables with no opportunity for turnout (exercise) or socialization. In response to these concerns, many major cities, including
London, Paris, Toronto, and Beijing have chosen to prohibit horse-drawn carriages. Our questions on this issue:
If elected, as Mayor of Montreal, how would you address the animal welfare and human safety concerns related to the carriage horse industry in Montreal?
If elected, as Mayor of Montreal, would you consider reducing or eliminating permits for carriage horses in the downtown/old Montreal core
Montreal Dog Blog received a response from Projet Montreal on October 9 2013. To read their proposal and the opinions of MDB Blogger Liliana Danel click here
To contact the front-runners in the race for mayor of Montreal in the 2013 municipal elections CLICK HERE