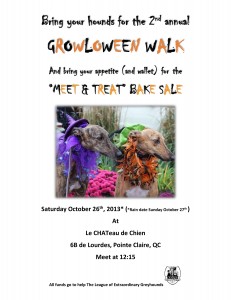 Saturday, October 26, 2013

12:15 PM

6B de Lourdes,, Pointe Claire, QC (map)

"Growloween" Fundraising Walk in the Pointe Claire Village – meeting place Chateau de Chien.

Costumes for your hounds would be "greyt" if not then perhaps Halloween collars. If you've got NO costume/collar there will be some Halloweenie bowties, and bows, so no worries! After we walk around the Village (accosting passerbys with our pumpkin trick or treat buckets for their spare change) it's back to Chateau de Chien for a Meet & Treat Bake sale. All Bakers can finally show off your talents! (People treats AND dog treats welcome). To further make the day FUN there will be a raffle and whoever is there with a dressed up dog (be it costume, collar or bow tie) will also get a little something !