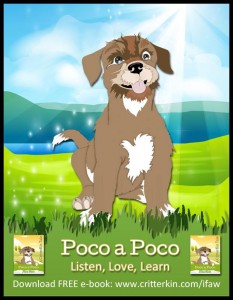 By: Liliana Danel
CritterKin presents the story of a pup and his mom on their journey to find their forever home. Poco a Poco is a heart-warming story for kids between the ages of 5 and 12.The story is based on actual events from an International Fund for Animal Welfare (IFAW) project in Cozumel, Mexico. According to the website, IFAW is working hard to provide long-term solutions to the many threats faced by companion animals in Cozumel and expanding the local shelter and its programs, spay/neuter clinics and an education campaign on responsible companion animal guardianship. CritterKin's Poco a Poco hit #1 on Amazon's Kindle Bestseller list in the "animal care and pets" and "children's dog books" categories and is currently FREE to download for all the most common e-readers!
Poco a Poco is story full of colorful characters where kids will learn about "the come and go" people and enjoy the story of how wolves became dogs and how they help humans listen to their hearts. Within the story, children meet human characters that serve as a role model of what compassionate human beings do when they come face to face with an animal in need. Maybe it can even inspire parents and children to become involved in helping out at a shelter or adopting an animal in need! The beautiful illustrations of CritterKin and engaging story are the creation of Jena Ball, a widely published freelance writer and co-founder and creative lead at Startled Cat, Inc. A YouTube video shows Ms. Ball reading the story Poco a Poco to a group of attentive children that are eager to ask questions at the end of each chapter. Her sweet voice and charisma reflect the vivid faces of the animal illustrations she creates.
'The mission of the CritterKin project is to help children (and through them their families) learn the invaluable life lessons that pets can teach. These include respect for all life, an understanding of and appreciation for difference and diversity, empathy, responsibility, and an awareness of our role as the species that has the greatest impact on the planet " explains Ball.
Martin Keltz, co-founder with Doug Thompson and Ball of Startled Cat, Inc. is no stranger children's media. I was in awe when I realized Mr.Keltz is the Emmy award-winning producer, co-founder and president of Scholastic Productions, Inc. (SPI, 1978-1995). He is the man responsible for bringing books that I grew up with to mainstream television and film: The Baby-Sitters Club, and Goosebumps. Later on my sister became the number one fan of The Magic School Bus, another Keltz project. Mr.Keltz was also co-executive producer of the international Emmy award-winning series (and my personal favorite show) My Secret Identity, which starred Jerry O'Connell.
CritterKin has partnered with the International Fund for Animal Welfare (IFAW) and will be working with IFAW's team in developing discussion guides and lesson plans for all the CritterKin books. By teaching empathy and respect to living creatures, our future generations of children will have the inspiration to do positive actions in their lives. Download Poco a Poco and share this wonderful story with friends and family members.
I was born and raised in Mexico and I am amazingly touched by reading this wonderful story. The life of Lucita, her little Lobo and friends may be fictional…but it is the reality of thousands of stray animals throughout the country. Thank you IFAW, Jena Ball and Martin Keltz, for giving a voice to the many stray and abandoned animals in our world.
Like CritterKin on Facebook Click Here
Follow on Twitter Click Here
 Free Halloween Stuff for Kids from CritterKin on Pinterest Click Here