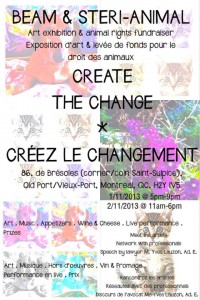 Bien-Être Animal Montreal (BEAM) & Steri-Animal are very pleased to invite you to their next animal rights fundraising event "CREATE THE CHANGE", an open-themed art exhibition and sale where over 25 artists will show their work. 
Paintings, photographs, sculptures, cushions, jewellery and much more, will be on display in the Old Port of Montreal. 
WHEN?
Friday November 1st, 2013, 5pm-9pm
Saturday November 2nd, 2013, 11am-6pm
A delicious variety of vegetarian/vegan appetizers, wine and beverages will be served on both days. There will also be a bake sale, and a selection of natural products for sale.

Well-known artists will participate and will kindly donate an important part of the proceeds of the sale to the cause.

There will be a live performance by Jazz singer NIKOLE KAYE, Friday evening! Smooth jazz lovers, come enjoy the show! There will also be a special appearance of latin singer KANDRICK, Saturday afternoon!
BEAM & Steri-Animal are dedicated to reducing the overpopulation of community cats in Montreal. Since 2003, our effective spay and neutering programs have prevented the birth of tens of thousands of unwanted kittens.
Please help them strengthen their mission. They need your support to make a difference!
Invite all your friends and family! Everyone is welcome!
THANK YOU!