When PetitsPawz foster mom, Linda, went to buy some cat food at the local pet supply store, she was in for a big surprise! A duffel bag containing  3 small kittens was on the steps of the establishment. She quickly brought them in, but the manager told her to remove them and that he did not want to be involved. Linda brought them home. More surprises awaited Linda. Two of the kittens were very wobbly with one having great difficulty to walk without falling. Linda did her research and concluded that these kittens had Cerebellar Hypoplasia (CH) and called PetitsPawz. Once brought to the vet, it was confirmed and Linda was correct, the kittens had a neurological condition, known as CH.
CH is a misunderstood condition that results in  the unnecessary euthanasia  of thousands of cats each year. The condition, sometimes referred to as wobbly cat syndrome, is caused when the mother contracts a virus called Panleukopenia when the kittens are in the womb.
Cats with CH have underdeveloped cerebellums,the part of the brain which controls balance and coordination,  this causes mild to serious coordination problems. These cats may have trouble walking without falling over, have trouble focusing, have head bobbing and walk with a wide gait. They also have no pain, no idea that they are different than other cats and tend to be extremely loving. They are otherwise normally healthy, and have the same lifespan as other cats. The condition does not worsen, in fact with time, it often improves, as other parts of the brain compensate. They also learn quickly how to live with their limitations
Meet Annie and Juliet, PetitsPawz' CH kittens looking for their forever homes. Our 2 CH kittens are perfect examples of the intelligence, determination and love that fill their little bodies.
Juliet – Approximately 13 weeks old
This little kitten was so underweight when she first arrived that she had to be bottle fed, while her siblings ate on their own. Juliet's CH is quite severe, but don't let that fool you. She has made great strides and is full of determination. She is now normal weight, and can chow down with the rest of them. She has a lot of trouble walking but is now taking more and more steps each day without falling. She props herself up on a pillow to eat and uses the litter box normally. She adores playing and can dart around and play with the best of them. When she falls, she gets herself right back up and NEVER stops purring! The vet expects her to improve significantly as she gets older.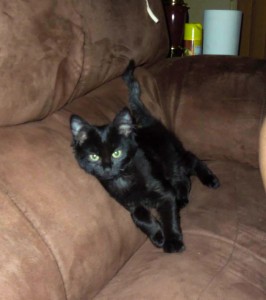 Juliet knows that when she leans on things, such as the couch, she can get around easier! Juliet is extremely affectionate and is constantly purring. She loves to hang out on your lap and gets very excited when you shake a bag of treats.  She is also loving with other cats and dogs. If she were in a beauty contest, she would definitely win Miss Congeniality!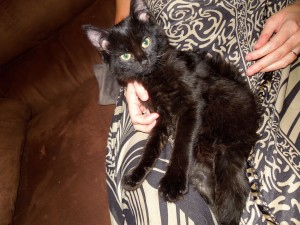 Currently, her walking is difficult, but we have seen significant progress which is expected to continue to improve. 

[youtube]Nl_JF_9y_rE[/youtube]
 Annie – Approximately 13 weeks old
Annie is a bit shy at first, but once she gets to know you she is your very best friend. Another purr ball, Annie makes up in personality what she lacks in coordination. Annie walks with a wide gait and is also expected to improve significantly. She is fast and loves to run and play. She also loves to be held and cuddled.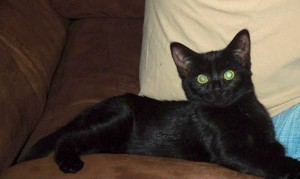 Not quite as outgoing as her sister Juliet, Annie seems to be a bit more aware of her limitations and therefore is slightly more cautious until she get comfortable. She gets very attached to her caretakers and bonds very easily.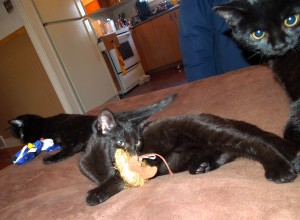 She is a tranquil kitty full of love and delight. She is eager to please and ready to play at all times. She has a slick black coat. If she was in a beauty contest she would win miss photogenic.
[youtube]7CiHC0g-NJk[/youtube]
Both girls need a good home with someone who can make sure they are safe and cater to their special needs. Simple adjustments such as kitten proofing the house, and ensuring that they are safe from accidents, making sure they eat properly and ensuring they get adequate exercise is what is needed. As mentioned, the cats are otherwise healthy and will live a normal life.
PetitsPawz has its hands full but took Annie and Juliet in since it was an emergency. Their vet care will amount to approximately $800 with emergency examinations and vetting & tests, vaccinations, deworming and sterilizations. We are seeking donations to help us cover the costs. All donations  will receive a tax receipt.
December 20th, 2013 update: We have received $95 in donations online to date. In addition, as regular bloggers and part of the Montreal Dog Blog's Pay it Forward campaign, we will be receiving $275 which will go towards their vet bills. Thank you to everyone for supporting Montreal Dog blog!!!!! We have less then $430 remaining for the two girls as of today.
You may donate through the secure site CanadaHelps.org:
Click: Donate Now
Donation Amount:
Fund/Designation: Select Donation for Juliet and Annie
Message Box: Include your name, phone # and address.
For information on adopting these lovely kittens please email PetitsPawz at info@petitspawz.net or on Facebook at https://www.facebook.com/PetitsPawz.