It's the most wonderful time of the year! MDB loves the holiday season because this is when our bloggers get to "Paw It Forward" and help rescues that mean a lot to us!
Where The Money Comes From
Our generous advertisers! The folks you see in the sidebar on the right hand side of this page – AND in the "Montreal Resources" dropdown listings up top.  Thank you for your support!
Our ad revenue goes to: 
 Paw It Foward 2013
For this year's Paw It Forward movement,  MDB is personally able to donate more than EVER this year: $2200 to rescues!   The money was divided among our 4 most dedicated bloggers in 2013!
They each have $550 to gift to the charit(ies) of their choice.  Let's see who they chose this year and why…
---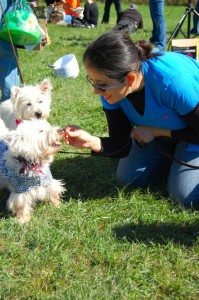 Liliana Danel:
I am so thankful for being part of MDB. This is our third year of "pawing it forward" to our dear local groups that support animal rescue. Thanks to the generosity of our kind sponsors and supporters at the event of Rescue of the year 2013, I am given the humbling honor to donate $550! Thank you to everyone that reads what I blog about and thank you to all the kind people that have met through out this year!
1.     I would like to give $100 to Rosie Animal Adoption and to Animatch. Through out the years, their volunteers have been very kind to animals and to MDB. They truly believe in our ideals and each month they send me their events to be posted on our calendar. They believe in the power of social media. It is always very heart warming when I receive their events to be posted…it shows me that they appreciate what we do and appreciate our sponsors that support animal rescue. A simple email to us can help find a home to an animal in need. Thank you for always keeping us in mind.
2.     Best Friends Spay Neuter Clinic has been an organization that I dealt with this year. They have helped many dogs and cats get spayed/neuter in the Montreal region. They helped me find a solution for abandoned animals that were saved by kind people that wanted to do the responsible act of sterilizing an animal in order to keep and give a responsible home. I would like to donate $150 to the team of Best Friends Spay Neuter Clinic and hopefully it can help sponsor another dog or cat that may need of their service.
3.     Another rescue that is close to my heart is Westies in Need. They have helped so many little westies find homes and follow through with their new families. This year at the Westie Walk in Ottawa I was able to see my dear little friend Westie rescued from Paws R Us. I had seen him the year before at the Westie Walk 2012, but unfortunately, his first adoptive family did not work out. Westies in Need did not give up on little Toby and found him a great new family that I was so honored to meet this year. Toby is safe and happy with his new loving family and Westie brother. Their team of volunteers and friends are always on the lookout for other westies that may need help no matter where they are. They have a great network…and as soon as a Westie that is in need is shared, it takes a few hours to know that the Westie will have a foster home and safe place where to rest. I would like to donate to Westies in Need $100.
4.     A lovely rescue that I am always fortunate to see at events is Boxer Rescue Quebec. Their team and their volunteers are always friendly and support the work that MDB does. It is fantastic to see how their great displays and table settings at events are used to promote their rescues. This Christmas BRQ has the *Boxer Rescue Quebec Foster Dog Christmas Tree Project*. I would like to donate $100 to this wonderful rescue in honor of all the Boxer pups saved by BRQ and from the whole team of MDB.
liliana@montrealdogblog.com
---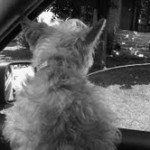 Terry Price Kimmel:
 The Montreal SPCA has had a bad rap for many years now. We were badly managed by names I won't mention but have left long bearing scars which we are trying to heal.
For 5 years I have volunteered my time at the SPCA Annexe division. It is a haven for the ones who just can't make it at the main shelter or who arrive in numbers too large to manage.
An emergency place to go for ones who have no place at all.
In the past months we have received cats from hoarding situations and dogs from commercial breeding facilities.  Some days are unbearably sad, others are joyous … finding forever homes for the homeless.
But each day brings a new beginning for many…including us, the staff and volunteers.
Happiness engulfed our little shelter this weekend when 100 dogs were released from a life of misery which this province continues to allow but the SPCA tries to contain.
This donation will go towards mending their little lives, spaying females who will never have to breed  again, and puppies that will not be placed in windowed enclosures for the public to swoon over.
Happy Holidays to all that devote their time to the SPCA Annexe , and to saving one paw at a time.
A big hug to Nat Lauzon and Montreal Dog Blog for this most generous donation ….and for allowing me to give a voice to Montreal 's voiceless.
terry@montrealdogblog.com
---
Susan Mackasey:
We have given a lot of thought on where we would like the funds to be placed.
We would like to split the money between the
Verdun Cat Refuge
and
PetitsPawz
. The reasoning is this: Verdun Refuge has the task of specializing in dealing with the overwhelming number of stray and abandoned cats in Verdun. Verdun has a huge stray cat problem and funds are always a challenge. There are not enough rescues dealing here. They never waver and keep on plugging even though it is overwhelming.  We know they can use the funds desperately.
The reason that we are choosing PetitsPawz is that we have taken on over 20 cats recently, all emergency situations with several special needs and some sick and having to spend time on IV at the vet. Our latest CH cats were brought into the system because of the urgency. We are struggling a bit financially due to this situation.
susan@montrealdogblog.com
---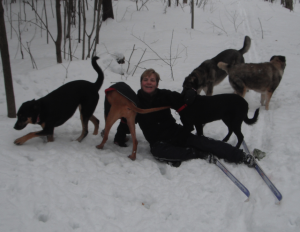 Dr. Amanda Glew:
I am splitting my Paw it Forward between  2 animal groups, which are dear to  my heart.
Firstly, Le Nichoir, of which I was an original board member years ago, and am now an honorary one. An example of what Le Nichoir means to me is the following story:   Lynn Miller, another founding member, was looking for someone who knew of geese to raise some orphan goslings, who were at the center. Preferably with some babies. Well, sure enough, along a trail where my daughter and I ride, there was a pair. So I led a group of rehabbers with 2 cat carriers full of 9 goslings, following my horse, into the woods. We came to a wild lake. When I asked Lynn, was she sure they would adopt the new babies, she told me in her Kiwi accent  "in theory, yeah". There was a heart stopping moment when the daddy goose hissed and flapped his wings- but it was to tell us to back up- the 9 babies waddled out and went under his wing, peeping away, as he ushered them into the water and voila. Insta family- from 3 to a dozen!  It was not long ago that  people calling with a small injured bird,  had nowhere to go. It is only because of the hours of dedicated volunteerism that we have a place to send them. The next time you are walking in the summer, listen; it is so quiet in the winter when you don't hear the birds around. It is a sure sign of spring when they return, and it would be a shame if we don't help their numbers stay viable so the birds will always be there.
The other animal group that I am proud to be associated with is Rosie's Animal Adoption. Anne Dube started this novel fostering adoption method years ago- coordinating 100's of volunteers and foster families to take in dogs, see how they react, then re-home them. I have personally fostered and adopted out 6 dogs this year- and although sad to let them go, I know this is the best way a new owner knows what they are getting. My last one, Tuque, (we called him Dylan), was a lovely 10 month old lab. Good in the house, he is (was ) a counter hopper, jumped up on people (used to)  but is very cuddly, high energy, good with cats and horses. This is only known when a foster home keeps them for a bit, and starts to work out the kinks. I tell all my clients to consider the adoption option.
Merry Christmas to all,  thank you for reading Montreal Dog Blog, to help us help pets.
bestfriends@qc.aibn.com