When this photo starting popping up online recently, the volunteers here couldn't close their eyes. These 2 kittens were brought inside from a person who spotted them in their yard.  One of the kittens was in obvious need of immediate medical care, and although PetitsPawz does not have the financial means to take any new cats on right now, we could not look passed this little kitten, or his sibling.
The kittens were brought directly to the Animal Health Clinic in NDG yesterday and were both examined by the veterinarian. Our main concern was the right hind leg of one of the kittens, appearing from photos to have been severed under the hip.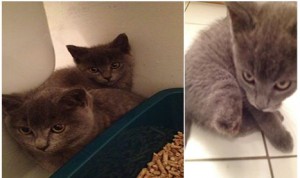 Upon examination, our Vet was able to determine that the missing leg was a defect at birth. The wound (appearing open and gashed) was caused by the kitten dragging the leg outside since birth, tearing fur and skin. The good news is that the leg was not severed as previously thought. This wound would have become extremely infected had the kitten remained untreated so we got them care JUST in time. It was cleaned and treated at the clinic, and we will keep a close eye on it for the next couple of weeks, before they return for their follow-up appointment.
Both kittens are female! They are approximately twelve weeks old and are at a healthy weight. They both tested negative for FIV and FeLV, were dewormed and also received their first vaccination. Today they arrived in their foster home, where they will be well socialized. They are very cute and just a little nervous.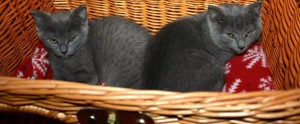 DECEMBER 19th 2013 UPDATE: 
GOOD NEWS!!!
Less then 24 hours after we put out the plea for help with funding for the two grey emergency kittens, WE HAVE REACHED OUR GOAL! We are beyond touched by everyone's generosity. Thank you so much to everyone for sharing their story!
We have also chosen their names! On the left we have Noëlle and on the right, Holly. Quite fitting since they were found during the holidays, don't you think?
If you donated, make sure to check your email (junk folders too, just in case) in the next week, for your behind the scenes look at the girls in foster care.
THANK YOU!!!

We do not normally ask for direct funding, however we do desperately need help to pay for their complete vetting.The cost for their first vet appointment is $203.00, and they will return in three weeks for an update appointment. They will receive their 2nd set of deworming and vaccinations and will be sterilized. The TOTAL cost of vetting both girls will amount to approximately $450. We have already received $50 in donations (THANK YOU!), so we need to collect the $400 remaining. Because we took these two girls on urgently, we did not have the funding in place and are relying heavily on donations. Once we reach our goal we will let everyone know.
Please understand that NO amount is too small, and every dollar counts. With only six days left until Christmas, we realize that budgets are tight. As a token of our appreciation, everyone who sends a donation for these two girls will receive 'behind the scene' photos of them and a 'behind the scene' update from their foster mom Laura! Donations can be made securely online through CanadaHelps by following the link. Simply click on the 'donate now' button and select this option for the fund designation: funds for two grey kittens:


HOW TO HELP THE KITTENS :
ONLINE
Click:  Donate Now
Donation Amount: enter the amount of $ you would like to donate
Fund/Designation: select the corresponding designation that says EMERGENCY KITTENS
Message Box:  You can leave a message here if you like.
Dedications (optional):  you can 'gift' this as a charitable donation on someone else's behalf if you like – great gift idea!
You will get a tax receipt for your donation.
Donations Directly to the Animal Health Clinic
You can also donate to the cause  directly to the Animal Health Clinic :
If you wish to pay directly to the Animal Health Clinic, please call (514) 369-9119  and tell them you would like to donate by credit card for the Emergency Kittens, under PetitsPawz.
Everyone who donates will be issued a tax receipt.
Thank you in advance for helping us to help the kittens.