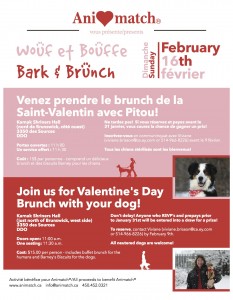 Join us for brunch with your dog! The annual Animatch Bark n Brunch will be held on Sunday February 16 at 11:30. Call to reserve your places. All neutered dogs welcome!
Karnak Shriners Hall
(just north of Brunswick, west side) 3350 des Sources
DDO
Doors open: 11:00 a.m. One seating: 11:30 a.m.
Don't delay! Anyone who RSVP's and prepays prior
to January 31st will be entered into a draw for a prize!
To reserve, contact Viviane (viviane.brisson@ca.ey.com or 514-966-8226) by February 9th.
All neutered dogs are welcome!
Cost: $15.00 per person – includes buffet brunch for the humans and Barney's Biscuits for the dogs.