Every year, MDB donates a large portion of our ad dollars back into the rescue community with Paw it Forward.  It's always heartwarming to see exactly where those donated dollars go.    Here's where one of this year's donations went – as sent to us by Suzannah Vanson.     – N@ Lauzon, creator MDB. 
_____
It was an honour at Best Friends Spay Neuter clinic to receive from Liliana of Montreal Dog Blog, part of an amount of dollars  that she distributed among several groups and organizations.
There were so many persons and animals in need of spay/neuter with owners or rescues that were very low on funds.
A lot of thought went into where this money would be used, but in the end, the answer was simple.
Dr Amanda Glew was aware of a family in great need, struck by very difficult times. We will call the owner's family "Blackie's family", after the name of the dog.
The owner, "Mr Blackie" came to Canada for a better life for his kids. He works very hard, a minimum of 12 hours a day doing at times heavy manual labour. They got a family dog, and were thrilled to have little Blackie. They were going to have her fixed around 8-9 months of age, but just before that time, his wife was suddenly diagnosed with an aggressive form of ovarian cancer. His wife was then no longer able to work. Finances became very difficult and the owner works basically seven days a week to keep everything going.
Dr Glew had offered to give little Blackie all her care at cost, free if need be, but the owner had a great deal of pride. He always said "When I have time".
The dog has brought great comfort to his family, especially the mother.  Blackie would lay with her owner, as she sat on the bathroom floor feeling ill from chemo, never leaving her side. The daughter and mother are extremely close to the dog.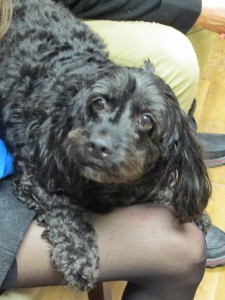 One day little Blackie went into heat, and Mr Blackie was a little befuddled at having to get sanitary pads for his dog!  It was hard not to laugh as he described his feeling buying "kotex" at the pet store. Blackie needs to be fixed!
Dr Glew asked "what about helping this family with the funds? Would he accept the help". That day, Suzannah who knows the family personally spoke to the owner and said  "a donation has been made to help a deserving family who needs help with spay/neuter and care for their dog. Would you accept this?".  He stood there with his face trembling and said yes.
Arrangements were made, and little Blackie came in with the whole family, who were terrified.  Would their precious pup be ok? After many assurances and explanations, Blackie was taken into the clinic, and received the care she needed. At one point the receptionist came to the back and said to Suzannah " the daughter is at the front desk crying".  She was reassured the dog was fine, and the family was seated in one of the consultation rooms where Blackie was brought to them to be cuddled and loved.
Of course, this family is particularly close to their dog, as they see it as a link to their mother who is very ill. She provides joy and laughter and normality in the home. She is a friend to everyone and it was a truly rewarding feeling to help this family, and knowing that their dog was taken care of. A dog that is very much needed to stay healthy and well, for the family.
The only complaint the owner had was hearing from Dr Glew that his beloved Blackie was fat.  🙂 Okay, "chubby".   The daughter admitted that they "eat together".
Post operatively, the dog has done very well, and while she is still "eating with the family", they are feeding her vegetables as her "snacks" and she is already losing weight.  Note to all dog owners who say spaying a dog makes them fat.  No  -actually, overfeeding dogs makes them fat.  Blackie now spayed, is losing weight. We wish her a long happy life.
Thank you to all at  Montreal Dog Blog and Liliana. You have made a difference in this family's life.