It's still winter. And life's still frozen over and in honour of that theme I'm going to review an awesome food that's freeze dried. In my blog on the Furminator I mentioned my personal favourite pet supply store in ALL of Montreal, Little Bear. I love Little Bear. It's a fantastic store with the most fantastic staff that are knowledgable and friendly. They're really great because they don't sell pet supplies to sell pet supplies. They're in the pet industry because they love pets as much as you love your pet. And you totally don't have to take my word for it. Just go into Little Bear and look at the quality of their pet food selection. FYI: You'll be floored, so you better bring someone to spot you.
My latest treasure discovered at Little Bear has been the food brand ORIJEN. In particular, their freeze dried raw meals. For the record, I am in awe of the raw diet due to all the nutritional benefits associated with it though the gross factor of hearing bones being crushed between your pets teeth MAY be too much for you to handle. If this sounds like you this review may be for you!
[youtuber youtube='http://www.youtube.com/watch?v=Yqg4ywUmOD0′]
Product: ORIJEN Whole Prey Freeze Dried Raw servings. The origin or ORIJEN (ya, I just did that) is this; "in the wild, dogs and wolves thrive on whole fish, fowl or game, including nutrient rich organs for vitamins and minerals, muscle meat for protein and fats, and bones and cartilage for the calcium and phosphorus needed to nourish their bodies. Compare this to today's "scientifically formulated" foods that are carbohydrate based, contain little meat, and are loaded with highly processed grains or plant-based proteins. Read their packages and you'll find lists of the synthetic amino acids, vitamins and minerals needed to replace nutrients missing from their ingredients in the first place. ORIJEN Whole Prey mirrors the diet that dogs and cats evolved to eat over thousands of years — a nourishing balance of meat, organs and cartilage, all of which dramatically reduce the need for synthetic ingredients in ORIJEN foods.
Pros: Freeze dried food is one step below raw/fresh. This means that freeze dried is the next best thing. This is why I love ORIJEN. I know I'm supplying my beloved fur friend the best nutrients possible in the most natural form possible. The basic composition of the food is anything but. "Protein-rich, carbohydrate-limited and grain-free, ORIJEN features the highest fresh meat inclusions of any dry dog or cat food, at the same time excluding many conventional pet food ingredients — such as inappropriate high-glycemic cereal grains and vegetable proteins that simply are not present in the natural diet."
"To mirror the natural diet, ORIJEN also features a diversity of meats including fresh, free-run chicken and turkey, fresh whole eggs, fresh free-range red meats and fresh saltwater and freshwater fish — all in a Biologically Appropriate ratio of 80 percent meat, 20 percent fruits and vegetables, and zero grain."
Example: Foxy's dinner tonight. Which is ORIJEN Regional. These freeze dried "medallions" are awesome because I know exactly what I'm feeding. Breaking apart one medallion into bite size pieces, I soak it in 1/4 cup warmish water for five minutes. Now, if I was only feeding her the Regional tonight I'd add another medallion but I'm not because I generally cook for my dogs, so I'll top off her bowl with cooked veggies, meats, maybe some honey and fruits.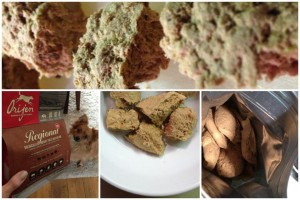 Cons: Depending on the weight of your fur friend this food may end up costing you a bit more. Making ORIJEN a super food to supplement as a special meal every now and then.
Overall: ORIJENs basic and clear-cut ingredients and feeding method make it a reliable and fantastic food source!
Price: 30$ – 35$
Where to Buy: Little Bear and online!