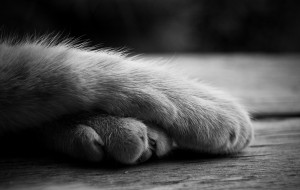 When I speak with veterinary colleagues in Europe and Australia, I am simply embarrassed. I live in this wonderful country where we are often leading the way of research and innovation in animal health and welfare. And yet, we still declaw. Twenty-eight countries (and counting) have made declawing illegal and considered inhumane. Why is Canada so far behind?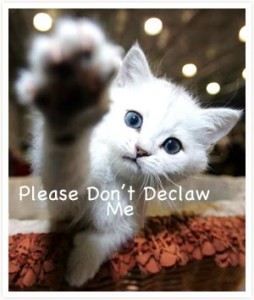 I know that my Canadian veterinary colleagues hate to declaw. When I ask them why they still declaw they will answer:  "I would rather perform the surgery than have another cat abandoned at a shelter" or "I would rather do it myself so I know it is being done well and with proper pain management".  As long as our clients have the option to declaw they will and so will the veterinarians.  And there is no judgement here. Many of my friends and even family members have cats that are declawed. I don't believe in it and they know that. All I can do is speak the words and promote the CHANGE in OUR BEHAVIOUR.
We all know why cats have claws and what they can do with them. There are so many websites available to give you great tips on how to make your cat's claws house-friendly! And certainly your veterinarian has given you these websites and promotional materials which tell you all about enriching their environment with posts, cutting their nails, Soft Paws®, etc. They have also likely given you a detailed description of what the surgery is (amputation of the final digit). But for many people, this simply is not enough and "I've always had declawed cats and it was never a problem. My cat seems fine and so is my couch!"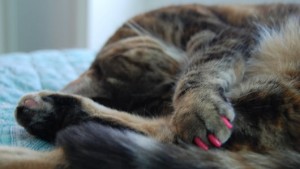 When I was in veterinary school I had an ethics class. We had many speakers come in to discuss relevant and controversial topics in the veterinary world. There was one speaker who really stuck out in my mind. She was an owner of a small animal practice that refused "healthy euthanasia".  Her message to us "to-be-vets" was: "I knew by refusing to do a healthy animal euthanasia, the owners were simply going to go down the street to the nearest clinic, but if I changed even 1% of the people's minds, then it was worth it. I had to sleep with myself that night, knowing what I did. And I couldn't sleep knowing I euthanized an animal that was healthy".
When I opened my practice, I made the choice with our team. We are a no-declaw clinic. And more and more clinics are doing so. At this time, there are approximately 5 clinics in Montreal area that I am aware of that are pro-claw.


Let's all stop taking the easy road. Stand for what you believe in, as a cat lover, as a veterinarian, as an animal health professional, and as a citizen and policy maker. We CAN make these changes. We CAN be one of those countries that have made declawing illegal. Those countries have no more cats in shelters than we do! In fact most of them have very few cats in shelters. Let's move into the 21st century and do something about it. Talk to your friends who have kittens and are thinking of declawing, write to the Canadian Veterinary Medical Association or your provincial veterinary order/college and ask them what they are doing? Some provinces (not Quebec) have made progress by outlawing tail-docking and ear-cropping. So we are getting somewhere! I believe that change can happen, one person at a time. I believe we can sit back and wait for it, or we can do something about it.
For more information on declawing please check out these websites: www.declaw.com, www.declawing.com, www.pawproject.org. You can also visit the Sherwood Park Animal Hospital FAQ section on why we chose NOT to declaw:  http://sherwoodparkvet.com/en/hospital-faq/#declaw