*** UPDATE:  MAY 18, 10PM  ***
Well, a strange day indeed.  Velo's owner has been found via Petluck.ca and she has within the past hour, been reunited.
She is, in fact 18 years old, is on medication and prone to seizures. She was missing for only 2 days.
Her name is Fifi. And in the shape in which I found her, she certainly was fading quickly.
A happy ending. A learning experience (certainly for me – and I hope for the owner as well).
I can't quite express how the outpouring of your kind words, offers to foster/adopt and generosity lifted me today.
While at the vet, she did accrue expenses. And we did receive donations for those bills via PetitsPawz rescue.
In the spirit of reciprocity, we would like to refund your donation if you so choose.
To have your donation refunded:
Please email: smackasey@gmail.com with your name and e-mail address to let her know.
If you choose to keep your donation with PP, please know it will go to helping rescue cats in Montreal. The money will go directly to helping pay off remaining expenses for Gordon's cats (please read the story here: http://www.montrealdogblog.com/18878/gordons-story/
It's been a weird day. But I don't regret it at all. A cat was rescued. A cat was reunited. And a whole lot of faith in humanity was restored.
You made my Friday, for sure. xx
_________
Hi – Nat Lauzon here! My day took a very different turn today, and I wanted to share:  
I woke up to a frantic message from my neighbour telling me there was a desperate-looking cat near our building that looked like it was dying – and what should she do?
What SHOULD she do?
I'm the founder of Montreal Dog Blog.  I know many animal rescue people.  This should be easy right?  Not entirely.  The truth is, cats are extremely difficult to find homes for and most shelters simply must refuse them because they already have too many cats – and sadly, never, ever enough homes.
Stray and feral cats are a massive problem in Montreal.
I always tell people if they have found a cat and are caring for it – to try their best to find it a home on their own.  It seems unfair to leave the onus on a good samaritan when we have animal control places, rescues, etc.  But the fact is, many perfectly adoptable cats are euthanized daily because there is simply no vacancy.  It's sad to acknowledge, but if you want a stray cat to have a shot at a home –  you should probably at least try to do the initial legwork yourself.  And shelters cannot be blamed.  This is the fault of irresponsible pet owners who do not sterilize their animals.   Spay and neuter is job ONE for a pet owner.
_______
So – the cat.
I immediately contacted MDB blogger Susan Mackasey.  Susan is the founder of the rescue, PetitsPawz and has been trapping and sterilizing feral cat colonies, helping rehome cats and generally doing amazing things for animals for a number of years.   She helped walk me through some options and we decided that together, we'd help this cat if we could.
But first I had to catch it.
I went out to look for it – knowing it couldn't have gotten far in poor condition.
I live near the bike path in NDG.  As I walked along it, some distance away, I saw a black and white mound slumped across the pavement in the path of cyclists.  I thought it might be the cat until I saw a few people cycle past it nonchalantly.  It didn't move.  And the cyclists didn't stop – or slow down.  So, I assumed it was a plastic bag or a bit of trash. But decided to check it out just in case.
As I approached, my heart sank.  I saw a small pile of black and white fur – sprawled out in such exhaustion and defeat that  it didn't even react to the several bicycles that cruised right past its head.  I was disgusted that they could sail right by and ignore her.   Fighting tears, I crouched down, met her eyes and spoke softly.  I extended my hand.
She let me touch her and even weakly pressed her forehead into my hand.  She wasn't feral.  This was once someone's pet.  Was she abandoned when someone moved?  Was she lost and never found?   Was she put outside to fend for herself?   Either way she had become – one of many neglected and abandoned Montreal cats. And she was quietly fading away by the day.
I gently touched her back and felt ridges of spine, protruding through thick clumps of matted fur.  Her tail was tangled with bits of underbrush.  Amazingly, she got up and followed me, as I coaxed her away from the bike path – at least temporarily out of harm's way.
I rushed to Bailey Blu to get a small crate (thank you Rada for helping me assemble it!) and a tin of cat food.  I hurried home, hoping she hadn't crawled into an out of the way place.   She'd found her way back to the bike path. This time, she had tucked herself further into some underbrush along a chain link fence.  Her back was to me.
Now, she didn't react to me talking to her at all.  Then I held out an open tin of  cat food and let her nose do the work.  She turned her head.  I placed the tin in the back of the crate and gently guided her in.  She ate like she hadn't seen food for a very long time.
________
At Animal Health Clinic, she lay flat on the examination table, no resistance whatsoever.   I needed a name for her file. Based on where I found her,  I decided on Velo.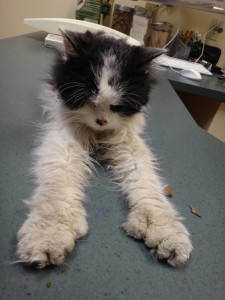 And that's where my story ends.  But Velo's story, hopefully begins.
I have since learned this tiny creature is about 12 years old!  Her heart is strong and she is eating – but she is extremely weak and has been neglected for months.  The vet is going to keep her on subcutaneous fluids for the next couple of days.   Once the blood tests come in, we'll know if there is anything else of concern to deal with (thyroid, kidney).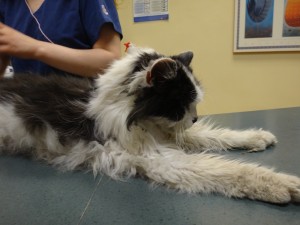 My day has flown by.  All day I've been dabbing tears thinking of the callousness with which people passed her by as she so clearly suffered.  But after sharing her story, I know that for every cold heart, there are 10 kind ones – the good vibes this cat is getting are strong!   Thank you all for your kindness and compassion (please keep reading to find out how you can help!).  The sad part is, stories like hers are all too common and will only increase as we inch closer to moving season in Quebec.
I know it's harder to place a senior cat.  But not impossible.  I know the right foster and potential adopter will come through.  I also hope Velo will find a warm and comfortable home with plenty of food and love and sunbeams to enjoy her retirement years in.
Y'know, I actually had a "To-Do" list for today and not one thing got checked off.   And I don't mind at all.   Sometimes life urges you to prioritize in the moment.
*Thank you to Cathy Newbury, Susan Mackasey, Rada from Bailey Blu and the staff of Animal Health Clinic for steeling together to help this little cat*
___________
To help cover Velo's vet costs, please consider making a small donation via PetitsPawz:
How to help
1) Shares – If you could share Velo's situation, that would be so appreciated. page: https://www.facebook.com/PetitsPawz
2) Foster Families: Once Velo is strong enough, we will need a place for him to stay until adopted. Please contact me (Susan Mackasey), or Nat Lauzon on facebook or at smackasey@gmail.com if you would be interested in fostering.  Velo will be vetted and given a clean bill of health before entering a foster home.
3) Donations – PetitsPawz is currently at capacity and our financial resources are already stretched. As this is an emergency, we are trying to raise funds to cover the vet bill. The exact amount will is to be determined but will be at minimum $500. All donors will immediately receive a tax receipt.  You can make a donation through CanadaHelps which is a secure site or you can email me at info@petitspawz.net to arrange to send a cheque.  You can also call Animal Health Clinic directly to make a direct donation to PetitsPawz for "Velo" at:  514 369 9119
To donate through CanadaHelps:
1) Go to Website at https://www.canadahelps.org/CharityProfilePage.aspx?charityID=s100425
2) Click on Donate Now
3) Next to 'Fund Designation', click on 'Donations for Velo' (when you click on PetitsPaw General, the Donations for Velo option will pop up.
4) Follow instructions on how to make a payment.