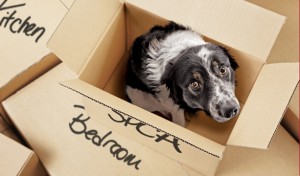 Montreal, June 9, 2014 –  Montreal SPCA continues to take action to help stop pet abandonment and is asking everyone to support their campaign "Keeping Families Together" against no-pet clauses in residential leases.
Every summer, around moving day, thousands of Quebec residents are forced to make the gut-wrenching decision to part with a beloved pet, whom they consider a member of their family, in order to find rental housing that meets their needs. When you know the alarming statistics regarding pet abandonment in Quebec – the worst province in Canada when it comes to animal protection– you can't help but want to do something about it!
Montreal SPCA believes that it is the citizens' right to demand for this change. By joining the campaign "Keeping Families Together", people are taking action to change the law that forces thousands of pets to be abandoned in Quebec.
Here's what YOU can do:
Visit the microsite www.stoppetabandonment.com to take position by signing and sharing;
Sign and send this letter to the Minister of Municipal Affairs and Land Occupancy;
Send  your story by email at: stop@spca.com.
The no-pet clauses in residential leases are devastating, not only to the families who find themselves unable to keep their pets, but for the animals themselves. "Due to these clauses, during the moving season, the number of animals coming into the Montreal SPCA shoots up from around 600 to 1,600 animals per month – that's almost three times the number of abandoned animals", explains Alanna Devine, Director of Animal Advocacy at the Montreal SPCA.
Currently, the Quebec law allows landlords to penalize all pet owners who are looking for affordable rental housing, regardless of how their animals actually behave. This disproportionately affects low-income families, who have more limited opportunities for housing. Faced with a similar problem, France, Belgium and Ontario ruled that clauses prohibiting animals in residential leases were unreasonable and unfair, and so they were declared null and void. The Montreal SPCA believes it is time for Quebec to follow these examples.
Everyone is invited to join the Montreal SPCA campaign "Keeping Families Together" and help  stop pet abandonment! Let's take action to change things!
To learn more about the current situation regarding no-pet clauses in residential leases, see the Montreal SPCA's Frequently Asked Questions (FAQ) section by clicking here.