Om nom nom! A good diet is crucial but what's more? Good dental care.
Recently Milk Bone contacted the Montreal Dog Blog and offered up Milk Bone's new Daily Brushing Chews that are designed and marketed as a way to help maintain your canines pearly whites.
I was stoked (cuz Milk Bone has incredible accessibility and its affordable) but weary. I'm obsessive about my dogs dental care. I'm convinced its a foreshadowing of general health to come. I was all, "this has got to be too good to be true" because big commercial institutions scare me since they have a history of marketing bullocks.
In lieu of my paranoia with institutional reputations I googled Milk Bone deep into the web and guess what? Milk Bone isn't trying to pull a fast one by us. Truth be told Milk Bone's Brushing Chews are a phenomenal way to maintain your dogs oral health. I was super stoked you guys.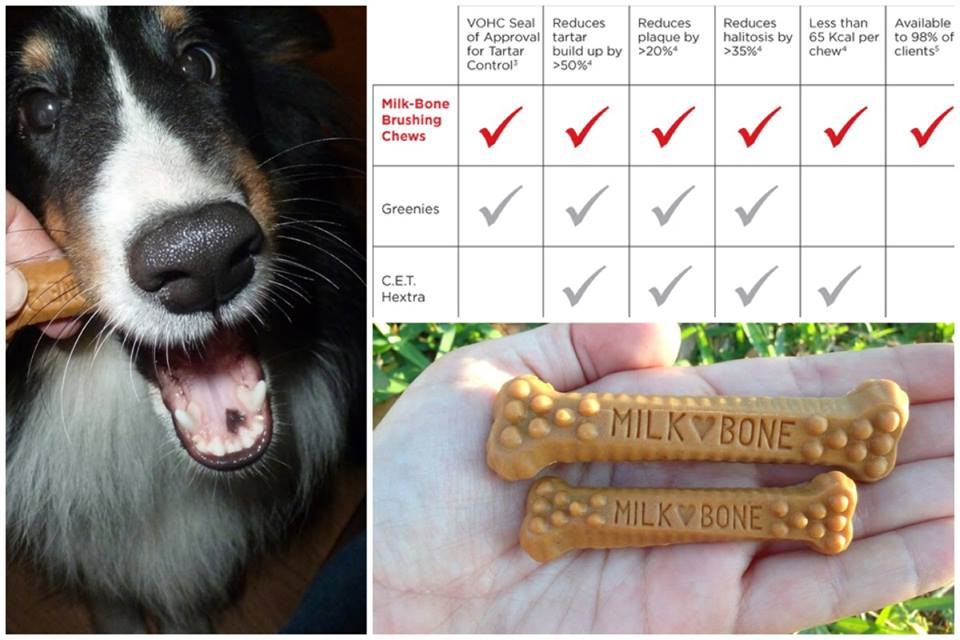 Here's why:
Product: Milk Bone Daily Brushing Chews.
Stepping away for many years from the veterinary hub, Milk Bone, a subsidiary of Del Monte Foods, splashed back onto the scene during the North American Veterinary Conference in March of this year with an announcement that it would be launching Milk Bone Brushing Chews.
These chews, which have earned the Veterinary Oral Health Council's (VOHC) Seal of Acceptance – OH SNAP!! – have shown to be as effective as brushing a dog's teeth twice per week when fed daily, based on the reduction of tartar and halitosis.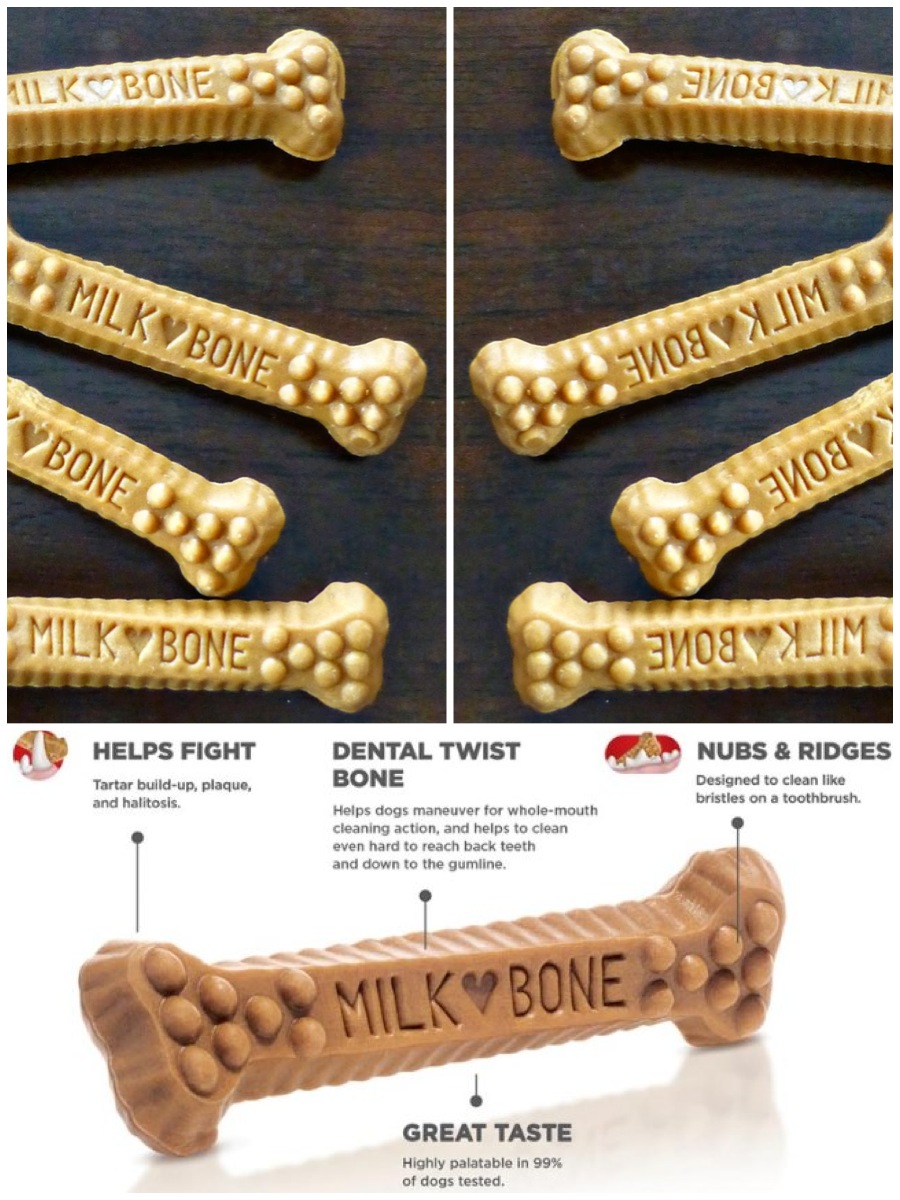 Done up in an irresistible chicken taste and packed with 12 essential vitamins and minerals, including calcium for strong bones and teeth, these chews are made with a twist, nubs and ridges designed to clean like bristles on a toothbrush.
Available in two sizes, Mini for dogs 5-24 pounds and Small/Medium for dogs 25-74 pounds. The mini Milk Bone Brushing Chews are 31 calories per treat and the small/medium sized treats are 62 calories each.
Milk Bone's values are in the packaging. Designed to emulate a box of toothpaste, including labelling urging dog owners to visit their veterinarian for a yearly veterinary dental checkup. Other slogans found on packaging remark, "the veterinarian is your pet's dentist" (perhaps an obvious statement for veterinary professionals but not always clear to pet owners, product developers say.)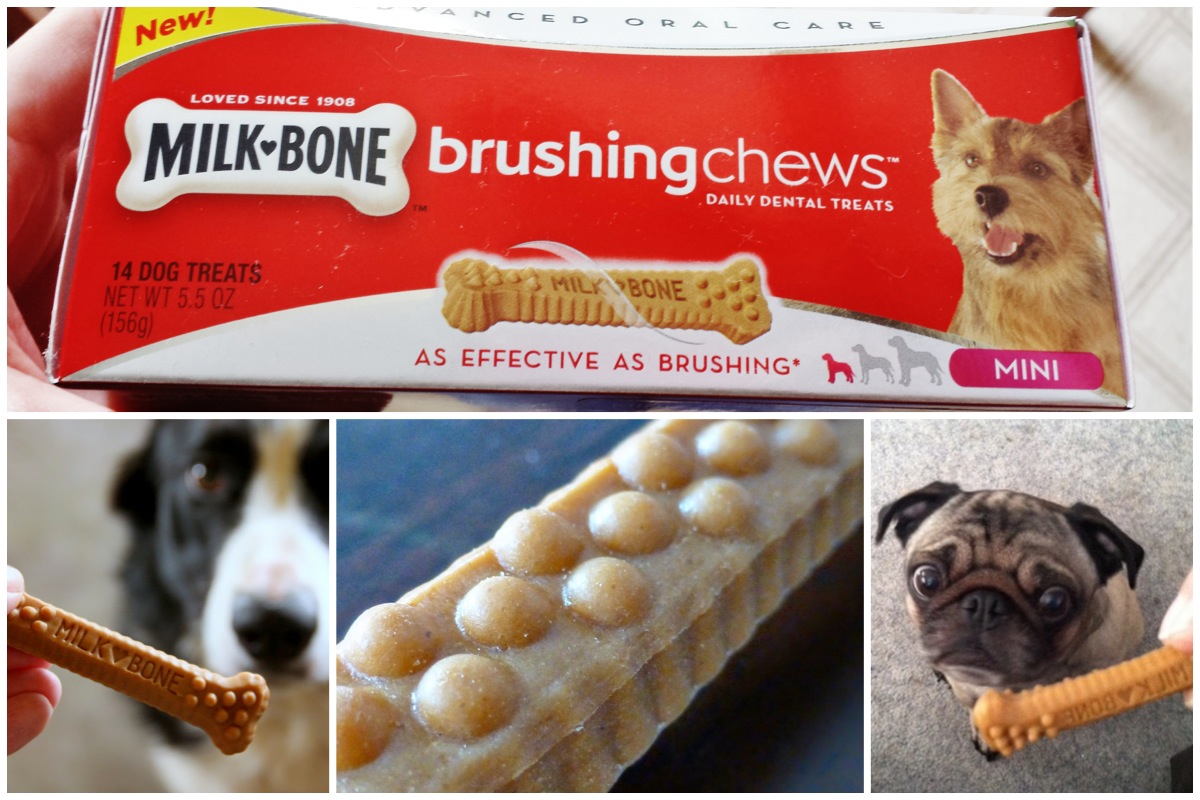 The suggested retail price will be under 15$ per box, with 14 mini chews in a box, seven small/medium chews per box.
Pros: Lets say you don't brush your dog's teeth, or lets say you don't like the idea of getting in your dog's mouth, or maybe, due to your dogs health, putting them under for an annual dental isn't an option. What these Milk Bone chews provide is an excellent option for providing your dog with responsible oral care health in the form of a tasty treat.
Cons: Nope.
Overall:  Milk Bone's provide a solution to the concerns regarding at-home dental care for dogs at an affordable rate while raising the bar for other pet commercial brands to follow with their Daily Brushing Chews.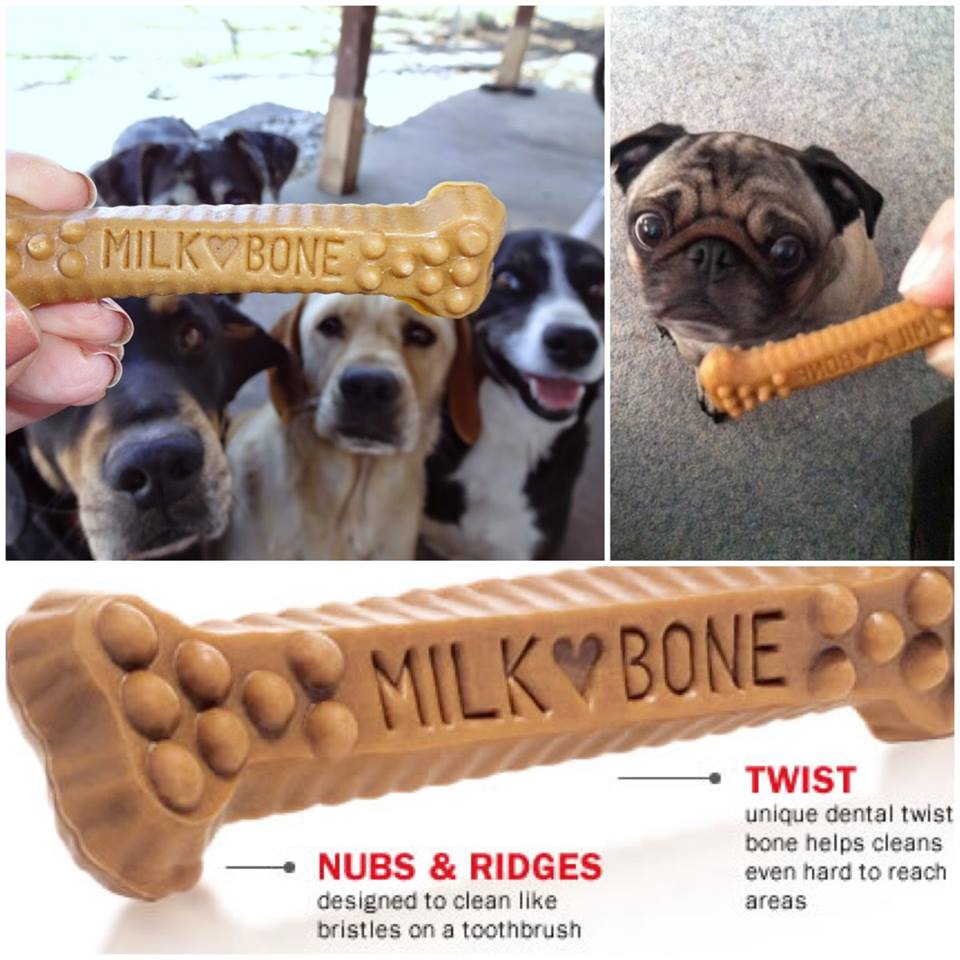 Price: 15$ weekly investment.
Where to buy: This is what is so awesome; Milk Bone is readily accessible in most grocery stores, pet stores, and speciality pet stores (without speciality store price gouging) giving dog owners the ability to afford oral care for their dogs.
In closing, these chews are so SOOOO good. OM NOM NOM!!