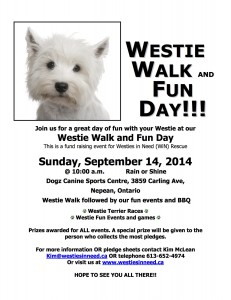 Dear friends, It is almost time for Westie Walk 2014! I would like to reach out and ask for your kind donation for the dog rescue Westies in Need.
Their great network of volunteers and foster homes have shown how much they care for Quebec. Each year, they do a wonderful job rescuing westies that need their help.
The SPCA surrendered to their care a westie boy named Oxy and I am happy to inform that he has been adopted! There is also the rescue of a handsome little boy named Humphrey. Let's not forget our eight little friends that were rescued from the biggest breeding facility seizure in Quebec done by HSI in 2011.
Last year I got to see two of the 2011 rescued westies: Toby and Winnie! Both pups are doing great! They each have an amazing family that loves them very much. Each time I see on Facebook pictures of Toby or Winnie, I cry because of how happy they both are now.I hope I get to see Oxy and Humphrey coming at this year's westie walk.
No matter where the pups come from, it is a fact that once they are with Westies in Need Rescue, they will get their happy furever-after family.
This will be our third year going to the Westies In Need Westie Walk in Ottawa. Please, I am asking for you to donate kindly in any amount that you can afford to help me collect funds for the wonderful work that Westies in Need does.
All proceeds of this online fundraiser will go to Westies In Need. They have been notified of this youcaring.com event.
Last year we were able to put together 200$ let's try to double that amount! Please remember, small donations add up in a tremendous way.
Even if you cannot help financially, you can lend a hand by sharing this event. Thank you so much!
Click on the youcaring.com widget to go to the site and donate or please click here!