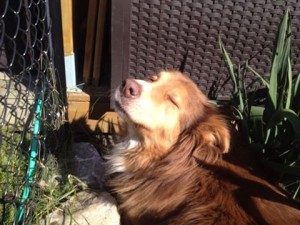 I think so.
Meet Black.
Yeah I know. What kind of name is that for a brown collie mix?
Black is part of the seizure that took place on June 10th by the Montreal SPCA in the Lanaudiere region.
Badly neglected, we are not certain if he was chained outside all his life or locked inside the house in a crate. What we know for sure is that he was the eldest of the 35 medium and large breeds …and in the worst shape.
His age is estimated at 15. He came to us with hip dysplasia, horrible eye and ear infections and terrible skin issues. He could barely walk. How he lasted this long is an attribute to his will to live. We all cried, asking ourselves how we could manage to get him through the next few months, let alone wait on a court date to decide the fate of these dogs.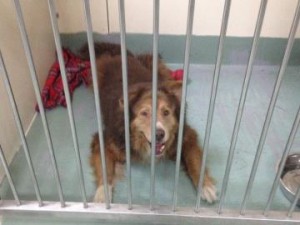 He was treated with loving care by all the vets and staff and slowly medications began to work. Pain meds allowed some spring in his step He no longer lay listless in a pen but looked forward to visits from volunteers eager to spend time with him.
But always in the back our minds the question lingered…If a judgement came down and he was free would he have any real quality of life? Would we be doing him a favour by allowing him to go on? Who would want a 15 year old with such severe medical issues ?
Black decided the answer for himself. He became attached to one of our Annexe volunteers, Lisa Campisi. They formed a bond in that pen and on their walks.
One day it was decided that some of these dogs could go into foster while awaiting a court date. Lisa asked if she could try bringing Black home. We of course said yes but thought he might become a really big challenge to Lisa and her family.  Nothing could be further from the truth. He flourished in her home and took to taking short walks and long naps in the sun.
I asked Lisa how it was going with Black and her two pugs , Dutch and Wally. "They get along very well, as you can see from the pictures, they sit next to each other and follow each other around. The other day I even caught Dutch licking Black's ears… I think that's a good sign"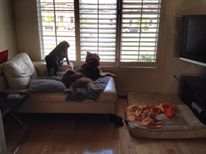 .
In September the dogs were freed. Adoptions began to the public and we all celebrated.
But no one celebrated more than Lisa and Black.
Because this past Saturday, BooBoo found his forever home after a 15 year long wait.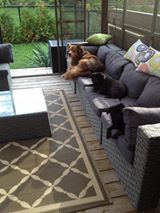 Happy Thanksgiving BooBoo. And thank you Lisa .
You earned your day in the sun.
TPK
"In rescuing animals, I lost my mind, but found my soul." ~anonymous