A PAWZ OF REFLECTION
I received our PetitsPawz calendars last evening and upon looking through them, it made me take a Pawz of reflection on the year that has nearly passed. (please excuse the corniness). All but one of the cats in the calendar were rescued in 2014, and each brings back memories to that period throughout the year. It takes me back to the moment of each cat situation and it also takes me back to personal, social and some political events that were taking place in my life during that time.
Most importantly, it brings me back to the enormous generosity and kindness that I have experienced throughout the year and am still experiencing. Several events occurred that brought a diverse bunch to align together to save animals. Each situation is like that. All types of ages, personalities and beliefs rally together to help the animals. For all the ugliness I see while running PetitsPawz, I truly realize that there is an equal amount of kindness.
I begin with the cats that were found in a duffle bag, outside a pet store who were weak, sick and 2 of which had a syndrome called cerebellar hypoplasia, which causes them to shake and have trouble walking. People rallied together and fostered, as long as possible. Nancy-Ann Michaud and her partner Francois worked diligently to help them gain their strength and learn to walk. It was difficult to capture their unique beauty  in photos, as they were black and would fidget. Lisa Howard stepped up to the plate and has ever since. This amazingly talented, kind and special person is also a sought after, professional photographer. She captured them beautifully and they quickly got adopted to 3 special people, one of which has cerebral palsy and she felt a kinship with Angel.
Angel is the Month of March in our calendar.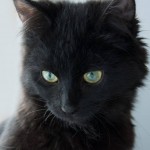 We also had a whole group of tiny kittens from multiple mothers in a colony in Verdun. They were living on top of tires in cars to keep warm. Unstoppable, Patricia Paulozzi and Jennifer Godair rounded them up, and a kind lady who had been feeding them, took them all in! Including the mothers, until we found adopters and foster homes. We then moved many of them to Lisa Howard's house, and she and her husband Simon and their children,  nurtured and socialized them until they were all adopted. Lisa became a foster failure and kept George, who had been very ill and had to stay at the vet, on IV for several days.  She also took beautiful pictures of them all.
George is the Month of January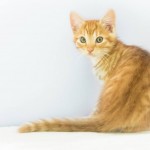 Many of you know the story of Gordon. A kind soul who lived in poverty and took in all the strays in the area. He took in too many into his studio apartment but he always made sure they had love and food. Even when he did not have enough to eat, they had plenty. He allowed me to sterilize, vaccinate and find homes for many. In May he came to me with one final favour… to  take the 15 cats and find them homes.  He was dying of terminal cancer. Everyone rallied together. Patricia Paulozzi and Abie Stys, among others gathered them and transported them to the vet.  Montreal Dog Blog fans and PetitsPawz supporters quickly spread his story like wild fire and miraculously, they were all placed within 2 weeks. Gordon died several days after. One of my last conversations with him, I told him how thousands of people had read his story and shared it all over Facebook. He replied. "I know I'm at peace with everything I feel very safe and secure here. I am beyond words. The power of social media just Amazes me".
Gordon's Puss Puss is the Month of July
Her Son Gunnar is the Month of December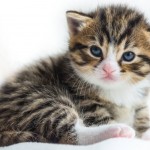 While in the midst of managing all of these cats in foster homes and coordinating vetting and potential adoptions, I was hit with a personal blow. My fiancee had a heart attack. Obviously, my ability to manage PetitsPawz came to a standstill. I was overwhelmed with the kindness and generosity of my volunteers, friends and strangers who came running to help keep PetitsPawz operating smoothly, and to take some of the load off my shoulders, as I needed to completely focus on Darryl and his recovery.
And the teamwork continues. Several months ago, I got a call from a friend and PetitsPawz supporter, Erica. She found a blind older, beaten up cat in the street, defenceless and in peril. I instructed her to go to my vet, The Animal Health Clinic with him. It turns out that he was about 16 to 18 years old and completely blind with diabetes. The vet kept him for treatment and Erica kindly contributed to some of the bill. The vet staff put me in contact with a lovely lady who helps older cats. She has taken him in as her own and his name is Alistair. He is thriving. Another one saved as a group effort.
Alistair at the Vet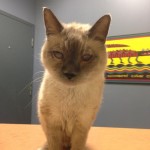 My final thought is of Reno. Reno began his life living with crack addicts. Left mostly to roam the streets, this beautiful rag doll was often seen dodging cars in Verdun. Finally, the people were evicted and left to live in the park. Reno was removed from them, as he was clearly being neglected. Reno has special needs, as he does not know how to use a litter box and he likes to mark his territory. We had him in 2 fosters and he is now currently with me. We have taught him to use dog training pads, and he is showing a bit of interest in the litter box. He still sprays. My cats do not readily accept him, so he is not happy. Here is where the teamwork comes in.  Lisa Howard did a photo shoot of him and I asked people to share. Many of you stepped up and shared. Because of this, a lovely lady has come forward who has no other animals and is wanting to work with him. We are taking him to a behaviour specialist this week. And, I touched base with my friend Maggie Shuter of Animal Adoption Montreal/Chatopia and she has agreed to work as a team to rehabilitate Reno. If it does not work out with the lady, Maggie will take him on and continue the work.
Beautiful Reno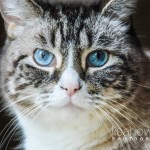 The point of this whole blog is to say thank you for your kindness and for pulling together to help each other and the animals. As individuals and other reputable rescues working together, we can move mountains for these animals.Though I am founder of PetitsPawz, it is not my rescue. It is our rescue and resource to be used strategically to help the greatest number of animals with a focus on Quality not Quantity. Without all of you, PetitsPawz would not be in existence. A big thank you to all.
A very special thank you to Lisa Howard who gives so much of her time to foster, support, photograph and help the cats in so many ways. Lisa was the photographer and designer of the PetitsPawz Calendar, which is absolutely beautiful! Thank you for sharing, fostering, adopting and supporting the animals!
To get your calendar, click on the secure link below. They are only $12 and sales will help us immensely to help more cats into the New Year!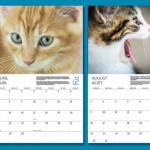 http://petitspawzrefugestore.bigcartel.com/product/petitspawz-2015-calendar
PetitsPawz
www.petitspawz.net
https://www.facebook.com/PetitsPawz