It's the most wonderful time of the year! MDB loves the holiday season because this is when our bloggers get to "Paw It Forward" and help rescues that mean a lot to us!
Where The Money Comes From
Our generous advertisers! The folks you see in the sidebar on the right hand side of this page – AND in the "Montreal Resources" dropdown listings up top.  Thank you for your support!
Our ad revenue goes to: 
 Paw It Foward 2014
For this year's Paw It Forward movement,  MDB is personally able to donate more than EVER this year: $3000 to rescues!   We have already donated $600 (Boxer Rescue, Chatopia and Nali Animal Orphanage).  The rest of the money was divided among our 4 most dedicated bloggers this year.  
They each have $600 to gift to the charit(ies) of their choice.  Let's see who they chose this year and why…
___________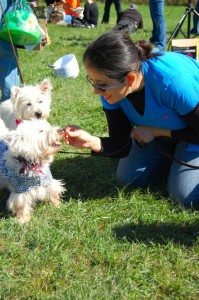 Liliana Danel:
I  would like to express my appreciation for the loyalty and love that the sponsors, readers and friends of MDB  have for this blog. It is very humbling the number of people and rescues that I have met through the five years that I have been part of MDB. Without your trust and friendship, we wouldn't be able to help our local rescues and friends. My dream of being able to help so many animals has been made possible thanks to you and the great human being that created this community and brought us all together: Nat Lauzon.  And now, here are the names of the amazing people that will receive a bit of help this year.
1: Doberman Rescue – 120$ – thank you for your great help when taking in Gypsy and helping her find a home.We are truly thankful for your quick response and helping out Sarah Saintisbury.
2:
Westies in Need –
120$ – you are always there for dogs that are in need and it has been such an Honor each time I have been in contact with any of the volunteers and members of this great rescue. The help given this year to little Heather after being rescued by HSI Canada from a breeding facility will always be appreciated.
3:
Rosie Animal Adoption
– 120$ for always being active in our community. For your dedication and love, not only to the animals…but to the great volunteers your rescue group has. Your dedication and undivided attention is unique and sincere. Thank you for rescuing so many lives that now  they will thrive in life and have found their happily ever after.
4:
Best Friends Animal Clinic
120$ – in order to help out another another dog/cat in need this year. What can I say about Dr Glew? The vocation and devotion that she has for all animals she helps goes unnoticed by so many. She is amazing!  She is a Doctor  sincere with all that she knows,  and is always there to go the extra mile to help those in need of her knowledge. I am sure that she will find the best family and candidate in order to get help from best friends spay neuter clinic.
5:
Pilots and Paws Canada
 $120 – They are true angels that make it possible for rescue animals fly across the country in order to get to safety. I am truly grateful for helping dear Jessie and getting him to Erika,  all the way to Erin in Ontario. He is rescue dog that touched so many hearts and we were all praying for a miracle to find him a forever home. Thank you for making miracles possible. You make me believe in angels
liliana@montrealdogblog.com
___________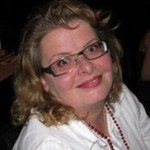 Meira Frankl 
 I would like to express my extreme thankfulness to all of you who read, support, and advertise with the Montreal Dog Blog.  It is you who make our Paw It Forward Campaign a huge success, and without you, we wouldn't be able to donate so much to many deserving rescue groups and shelters who work tirelessly to save and improve the lives of our local rescue animals.  Thank you!
This past year I had the chance to be a part of an amazing team of people who are working very hard to help animals who are in the rescue system.  As some of you may already know, last February, the SPCA started an Enrichment Team, made up of twelve volunteers, to help assist in making the lives of the dogs and cats at the SPCA much less stressful, and to help make those who were languishing, to become more adoptable.
The program is multifaceted, and has grown in volunteers, enough so that now there are two teams, one for the dogs, and one for the cats.  Some of the important work being done is to stimulate the animals during their stay at the shelter.  Kennel life can be quite stressful for animals, and along with stress being unhealthy, it also can make animals less adoptable.  Lowering stress, and increasing quality of life can matter so much to the lives of those living in a shelter environment.
For those of you who know me, or the work that I do, it will come as no surprise that I am a huge advocate of the benefits mental stimulation when it comes to our four legged friends.  The rewards of mental enrichment has no bounds, and can reap amazing rewards.
Which is why I am choosing to donate my portion of our Paw It Forward Campaign, which is an astounding $600 to the Montreal SPCA Enrichment Team, so that they can purchase high quality intelligence toys, food puzzles and other stimulating toys for the animals at the shelter.  While the SPCA does help fund the program, donations are counted on as well, and as we all know, there can never be too many donations!
Again, thank you so much for your support.  The animals and I thank you all so very much!
Happy Pawlidays, everyone!!!
Meira
____________
Susan Mackasey:
Thank you again for selecting me to Paw it Forward!  I allocate the funds as follows:
$300
–
PetitsPawz.
As much as I would like to allocate this amount to another rescue, it has been a very tough year. Apart from Gordon's cats who have amounted to over $4,000 in vet bills, we had another special rescue who needed some special help. Alistair was found beaten and in a state of despair in the pouring rain. Brought to the vet it was found that Alistair is approximately 18 years old, completely blind with diabetes. He also has the most amazing purr and loves to be held. It was confirmed  that Alistair still has a great quality of life with treatment. So treat him we did. And to top it all off… Alistair found his forever home (through our vet clinic Animal Health Clinic) with a wonderful woman who manages his diabetes and gives him the best of care.
__________
$300
– 
Refuge Chat-va-Mieux.
This is a relatively new rescue who has been handling 2 large individual hoarder situations. It is run by a couple who is working through the SPCA to sterilize and home over 200 cats and kittens. One of the hoarders is open to some adoptions, while the other is more reluctant. They are both open to sterilizing all the cats. This couple is compassionate to the troubled and overwhelmed individuals and passionate about helping the animals and getting the situation in check. Food for these animals is very expensive and though PetitsPawz is sharing our food donations, they need more help. I feel that the $300 would go to very good use.
susan@montrealdogblog.com
_____________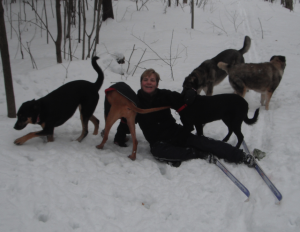 Dr. Amanda Glew:
The 6 month old boxer was in wonderful health, but had this cranial disfigurement- making him look like a Klingon from Startrek. Now, I am a Trekky, but found this lumpy hard material would make him harder to place. Fortunately, Boxer Rescue is one of those rescues who will allow us as their veterinarians to try things. I like surgery, and although did not guarantee success, they afforded me the opportunity to do my best. We staged the surgery into 2 parts- and removed one area of the massive lumps, allowing the skin to stretch, and then did the second part. I was thrilled that it did so well, and made the young boxer look like a boxer again. So I would like to donate $300 of my paw it forward to Boxer Rescue this year, thanking them for all they do to place boxers.
For the other ½, I would like to donate to the Kanahwake Animal Protection unit. With Deidra Whyte's initiative and help, we have been able to start a spay/neuter program twice a month at the Timberlea Veterinary Clinic for the animals from the reserve. Deidra drives in, rain or shine, with a van full of crates with dogs and cats of all sizes and ages. We call them K-day and know it will be a rock and roll day. Little by little, with education and their dedication, we will help control the surpopulation of unwanted animals.
Thank you Montreal Dog Blog for allowing me to air my stories, and then allow me to help out some animal charities! A special thanks to Nat Lauzon – who as we all know, is a large part of it.
bestfriends@qc.aibn.com