Pinning Miss Daisy – Dr. Amanda Glew 
In September  of this year, during a very busy Spay/neuter clinic that we hold on Sundays at the Timberlea Veterinary Clinic, I was asked to look at a found cat. This little kitten, named Daisy by the people who brought her in, was limping on her right hind leg, and had an obvious fracture. I thanked the people who brought in this helpless foundling, and said we would do our best – they did not want to keep her.
Thankfully, when we first opened, our staff asked us to set up a rescue fund to help cases such as these. We have a little box, and ask for people to donate left over change to allow us to help care for these abandoned animals. So we were able to take x-rays on Daisy, and found a very nasty fracture, which had already set in the wrong place.
As veterinarians, you are left with two choices in these cases – amputate the leg, or try to pin it. Of course, doing nothing at all and euthanasia is not a choice at our clinic. It is easier to amputate- cats do very well on 3 legs, but it is always nicer to keep 4 legs. However more of a risk for failure, and more costly.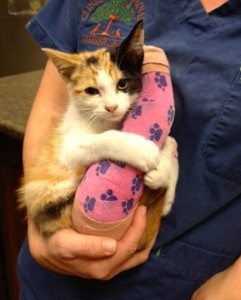 Fortunately for Daisy that day, our new veterinarian Dr. Nina Gauthier said she would like the challenge of putting the leg together with my help. I love orthopedics, and decided it would be a good case. So into surgery we went- the worse outcome if it didn't work would be to amputate later on.
During surgery, not only did we have to deal with the fracture, but her patellar tendon had been lacerated. In for a penny, in for a pound, we decided to do a specialized suture on her tendon. The prognosis for return to function was guarded. The two of us worked on this 3 pound creatures leg for over an hour. Finally, after much swearing and sweating, I said it would have to do.
To our mutual surprise, 4 weeks later, Daisy started to walk on her leg. Our new veterinary assistant, Emily, fostered her, and had difficulty holding her back. She started physio at home, with gentle exercises.  By week 6, she was running on it. We took repeat xrays to see if the pin needed to come out, but the growing bone had completely enveloped the pin, like a burl on a tree! So Daisy was placed for adoption. With the advent of facebook, she could have been adopted over 3 times!
Sometimes, as a veterinary team, these little successes make our lives meaningful. Thankfully, the little rescue fund we set up provided us with the opportunity  to try something – which normally requires a referral to a specialist. And our newest veterinarian, Dr. Gauthier, is perfecting her skills as a surgeon!