Christmas trees for the birds – by Dr. Amanda Glew 
When I was talking to a friend who had moved to the Eastern Township area to purchase a tree farm, I thought it would be a great idea to sell trees as a fundraiser for Le Nichoir Wild Bird Rehabilitation Centre.  So we did – I aptly called it Feather Trees, but was quickly corrected for being politically incorrect- there are "feather trees" which are actual trees made with feathers, and are considered anathema to rescue groups.  So I modified the name.
The first year we sold 50, which by the time you drive all the way with a horse trailer, and bring them back, is not very cost effective. But this year we sold over 90, the date was a little later, so now this was more interesting for raising funds. However, this also meant the weather was a little more unpredictable.
There aren't many people who are willing to do a 3 hour road trip with me, pickup over 2500 pounds of trees, load them into a trailer, sleep over night, and then come back. Only my good friend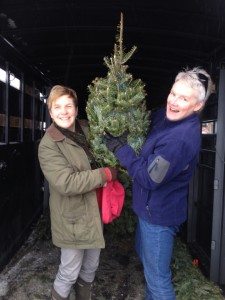 Tracy volunteered for the escapade, and coming a 2nd year in a row is a testament to our friendship.
Being a neophyte trailer driver, I have learned from the best- Town and Country Farms- where Lynda's best piece of advice is burned into my mind forever – wide turns. So off we went after having checked the oil and tire pressure, and over to the highway 30 to bypass Montreal. The way up was uneventful- but when we passed an accident involving a truck, 2 cars, and a police car, we were reminded that winter driving can be hazardous.
We arrived, loaded the trees, enjoyed a lovely dinner with our hosts, slept overnight, and awoke to the first large snow storm this year. There was a foot of the white stuff. It is only when there is snow and ice that we tend to become aware of the many hills in the Eastern Townships. Just getting the truck free was enough of a challenge, so I turned to our host Daniel and asked him to do the first large hill- we needed quite a bit of speed, and I could feel how the trailer was slipping from side to side. He was getting out the Kubota tractor and looked at me doubtfully "Dont worry, I can drive the tractor!" and off I went in the large tractor to be at the end if a pull or push was needed. So from the top of the hill I sat watching as Daniel and Tracy took the trailer down a large hill, keeping up the speed so that they could fly up the following hill- they made it, taking the turn all in one while I ensured no oncoming traffic. When I retook the wheel, I still could not move forward until I felt the tractor push us from behind, and finally got a grip.
Off we went, judging the hills carefully- you could not brake without feeling the trailer swinging out so had to just go in a free wheel down the hill at one point.
After a hairy ride home, we pulled into the Chez Cora on St. Charles, and there were a few raised eyebrows as I carefully maneuvered the trailer into the parking lot. We sat down to lunch, and the waitress looked at us in our country clothes, and asked "Are there horses in there?" Without a beat, we answered "No, just Christmas trees and a few reindeer!"   Merry Christmas to all!!!