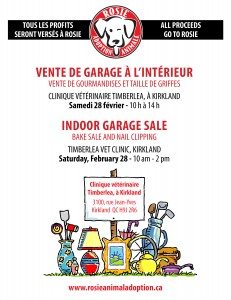 Rosie Animal Adoption will be holding its first indoor garage sale at the Timberlea Vet Clinic in the training hall, on Feb 28th 2015 from 10 to 2 pm.
There will also be a bake sale, along with nail clipping of your four legged friends by their groomer Doris for 10$ per animal.
All proceeds will benefit the dogs in need.
The great thing is we wont be watching weather reports to see if it will be rained out
.
Address: 3100 Rue Jean-Yves, Kirkland, QC H9J 2R6