Winter chills and fairs – by Dr. Amanda Glew 
With our return to the True White North- we had a little shock with the minuses we've been having after leaving a rainforest. So, what better way than to leap in? For the 2nd year in a row, the Timberlea Veterinary Clinic decided to sponsor a family dog sledding event for the Kirkland winter fair. It was the last weekend in January, and if you remember, it was minus thirty something with the windchill.
When I say sponsor, I grossly exaggerate- it really means roping in some of my favourite clients whom I've known for over 15 years, to bring their aging dog sled team (they no longer compete, but allow the dogs to do what they love, that is to run), and spend a Saturday afternoon in the frigid cold! How I manage to convince people is beyond me, and is a testament to their love of their animals, and willingness to share their knowledge and expertise in this little known canine athletic sport.
So Linda and Angelo show up with their truck, 11 husky hound mixes, of which the youngest is 9, their big sleighs, and some kick sleighs. We had done it last year, so we knew what we were planning to do- take teams of 2 to run a small circuit and have children go for a ride.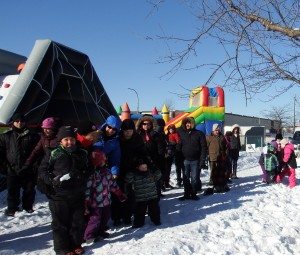 It was so popular last year, we decided to make the loop a little smaller so the dogs would not tire so easily, and we could give more rides. It was a little disconcerting that while we were setting up, there was already a line-up of children. Even more disconcerting was the tight turn- these wooden sleighs done bend very well, and while the dogs can make the turn, the fifty year old vet driving the sleigh doesn't always! After a few tumbles, we figured it out. My husband and I took turns driving the dogs, Linda would handle calling them, Ang would hook them up, and away we went. There were a few mishaps along the way- if someone came with a dog, the team would go askew, if there was something more interesting across the park, the dogs would leave the track and head over. There were also a few tumbles (on my part!) were sleigh, children and driver would overturn. The only thing I remember from my previous dog sledding experience in deep woods Minnesota is- never let go of the sleigh!
We did over 150 rides, and to the credit of the population- they were lined up solidly- so how could we refuse? People were bundled up, and despite the freeze, everyone had a smile. At one point, we were so exhausted, we had to pack a sleigh behind the line, and say "No more".
I am so lucky to know clients who will support our clinic in this manner, and for me, well it is a blast. The only problem is, next year, the youngest canine on the team will be 10!