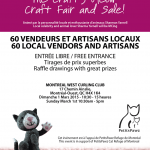 'THE CRAFT'S MEOW' CRAFT FAIR AND SALE – FUNDRAISER to benefit PetitsPawz Cat Refuge
PetitsPawz Cat Refuge of Montreal will be holding the "Craft's Meow – Craft Fair and Sale" on Sunday March 1, 2015 from 10:30 a.m. until 5pm. Sixty Montreal crafters will display and sell their wares to raise funds for the non-profit, charitable organization, named Quebec's Animal Rescuer of the Year, by Guardian's Best Foundation in 2012.
The event will take place at the Montreal West Curling Club, which is located at 17 Chemin Ainslie, Montréal-West, H4X 1K4. The Curling Club is centrally located in this charming municipality. "We are very excited to hold this event. It is a wonderful opportunity for the artists to showcase their creations, while contributing to an important cause", says Susan Mackasey, President of PetitsPawz Cat Refuge of Montreal.
Entrance to the event is FREE. There will also be a raffle with wonderful prizes to be won. Popular local celebrity Sharman Yarnell will be MCing the event.
Event:
· Fundraiser – Craft Fair & Sale
· 60 local vendors and artisans will display their crafts for your shopping pleasure
· Raffle – with great prize
· Emcee – Sharman Yarnell
· FREE ENTRY
When:
· Sunday, March 1st , 2015
· 10:30 am until 5pm
Where:
· Montreal West Curling Club
· 17 Chemin Ainslie, Montréal-West, H4X 1K4
Tickets:
· Free
"This is an especially needy time for us. PetitsPawz recently rescued multiple cats from a man who passed away suddenly. Many of the cats require significant veterinary care in order for them to have a great quality of life. The funds raised will help significantly", says Patricia Paulozzi, Vice-President.
PetitsPawz is dedicated to serving cats (and dogs in emergency situations) in need throughout the Island of Montreal. The refuge was co-founded by Verdun's Susan Mackasey and Montreal West's Danka Ducic in 2009. PetitsPawz' mission is to give shelter and care to stray, abandoned and abused animals, with the goal of finding appropriate caring adoptive families. It also conducts a catch and release program, which sterilizes, vaccinates and returns feral cats back into their established colonies to prevent further reproduction and the spread of disease.
More information: Call 514-518-4328, email smackasey@gmail.com. Facebook Event Page: Crafts Meow Event Facebook Page. Profiles of the crafters: Vendor Profiles. To learn more about this rescue organization' efforts, visit PetitsPawz at www.petitspawz.net.