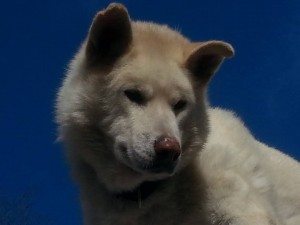 A Letter to my Foster Dad
Cher Papa Yves,
Before you I lived cold and lonely on a chain next to my brother for several  years, becoming old and more frightened as each one passed. I became "useless" , I had sores that did not heal and aches in my bones.
But after so long we were saved and sent to the SPCA Montreal to clean our wounds and heal our hearts.
When we were both mended, we were put up for adoption but few came.  But we were old. And we what we needed most were each other. We understood that finding a home for two seniors was not an easy task.
After time we moved into our own spot and every volunteer and staff member treated us to short walks and long snuggles. We were treated to being outside in the sun and inside in the rain. They promised to see us through and never give up on us.
And the SPCA Annexe team never stopped trying . Some good hearted people did come to help us but eventually we made our way back to our room with a view on Mountain Sights. Oh how we were loved there! But we heard them say it was not the best place to spend our lives. We often wondered what the best place should be. What was a home? We were happy just to have these wonderful old comforters , a good meal and each other.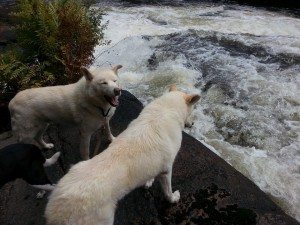 Then one day you appeared. You didn't seem to mind that we were old, or that I had trouble walking, and eating . You said come grow old with me. Both of you. Come LIVE with me.
And for six months I got to live! For the first time Yukon and I had a family. A house of our own.  A pack where we belonged.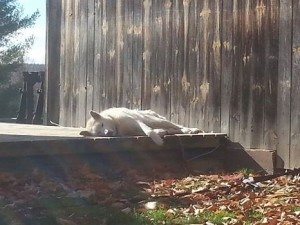 I got to walk with my new family in the snow during the day and sleep by a fire at night . You treated this old man with respect in your eyes and so much love in your heart . And you loved my brother as much as you loved every member of your pack.
We were able to trek through our wonderful new home with so much land and scents we didn't know what had happened that we deserved so much. For six months life was an exciting adventure every day.
I was home.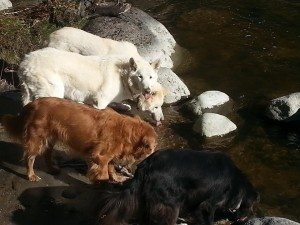 I wanted to be with you forever and run with the pack but each day brought new aches and pains to this old mangled body.
I tried so hard to keep up but this week I could no longer. I heard the word cancer coming from your lips with worry in your eyes.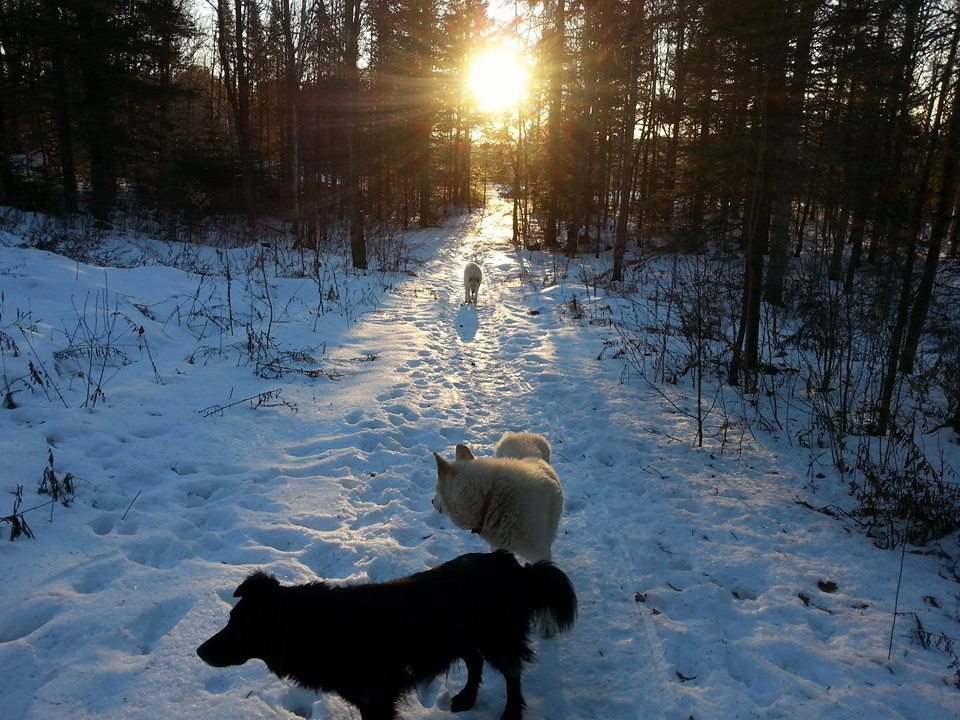 I died today.
But I died with you at my side.
You cried today.  I felt your tears.
That meant everything to me for as I went to sleep I knew I meant something to you. And that's all I ever asked for.
To be loved and cared for and to have a meaning to my miserable life before the SPCA and you came along.
I left with peace today . Six months was a lifetime to me.
I can sleep now. I do not have to look out for my brother any more.
For you are there.  And you always will be with me.
Chinook Lahale
_____________________
Yves Lahale is a very special person to the Annexe . It's a word used too often and I rarely say it but he is.  I love and respect him so much .
Yves has taken on many of the unloved and unwanted and made them a part of his home and his heart. To run free on his property and sleep on his couch. And to have a last breathe in his caring arms.
We owe a lot to Yves …for these boys are not the first he has helped and my heart tells me they won't be the last .
 If you would like to help Yves and his seniors you may leave food , large breed new toys or monetary donations, please bring to the  SPCA Annexe , 7314 Mountain Sights , with his name or Chinook's. We will make certain he gets them along with many hugs!
Fostering matters!
Please read any of my blogs on the subject or reach out to me at tpricekimmel@montrealdogblog.com
TPK
"In rescuing animals, I lost my mind, but found my soul." ~anonymous